S-Class Sedan

(European image shown)
Every mountain range has its pinnacle. Every sport, its champion. Every breakthrough, its inventor. In the history of the automobile, one car makes history time and again, not just by raising the standard, but advancing it in ways you never imagined possible.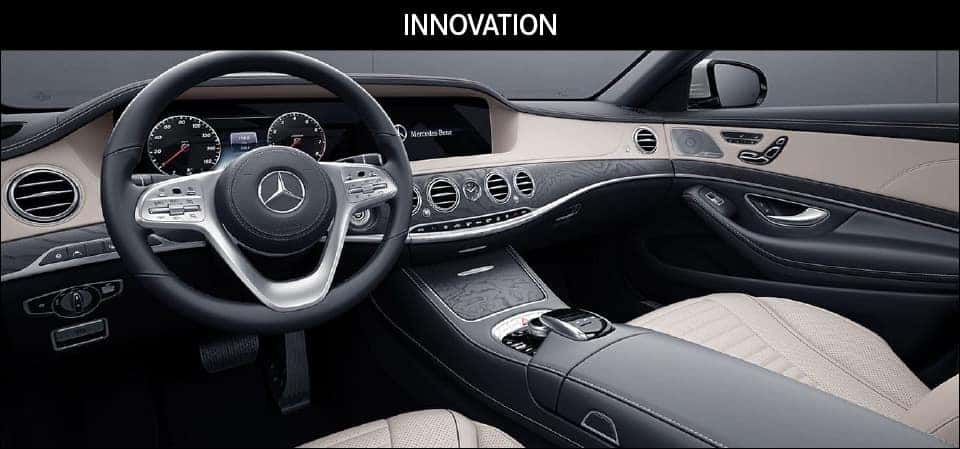 Today's S-Class previews the future of driving. It can change lanes with a tap of your finger. Slow itself for a tollbooth or exit. Turn a traffic jam into easy street. And watch out for danger ahead, even when it's coming from behind.* Available MAGIC BODY CONTROL® is the world's first proactive suspension that scans the road ahead with a stereo camera. It can generate forces to counteract bumps and dips as you reach them, not after. It can even lean into curves like a slaloming skier.**
Available ENERGIZING Comfort can rejuvenate your senses with a symphony of climate comfort, fragrance, massage, lighting and music. Enhanced ambient cabin lighting lets you choose from 64 colors in a variety of themes and zones.*** Two smartphone-like pads access nearly all the car's features directly from the steering wheel. Scroll, swipe and select from the central screen with your right thumb, and the screen between the gauges with your left.
The S-Class is more than motivated, it's motivational. Biturbo power raises efficiency, and your pulse. And its advanced, adaptive and highly adept chassis and drivetrains are engineered for an ideal balance of composure and confidence. Advanced engines respond with millisecond speed and molecular precision to keep performance and efficiency at their peak.
A 362hp 3.0L biturbo V6 powers the S 450 and plug-in hybrid S 560e. Gas-only S 560 models are roused by a 463hp 4.0L biturbo V8. Swift, smooth and versatile, the 9G-TRONIC transmission offers quick takeoffs, quiet cruising, and seamless acceleration in between. Shift paddles on the steering wheel keep sporty control of its nine speeds at your fingertips.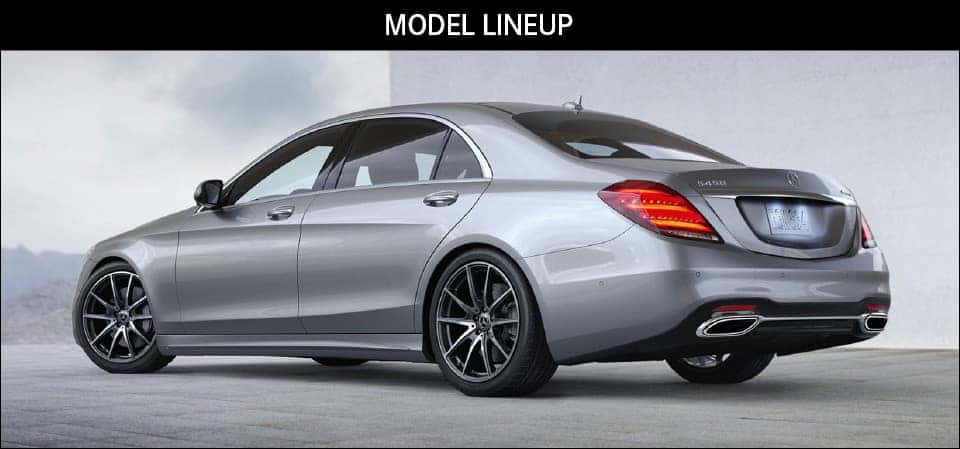 S 450 SEDAN:
POWER: 362hp @ 5,500 – 6,000
TORQUE: 369 lb-ft torque @ 1,800 – 4,500 rpm
ACCELERATION: 5.4 sec 0-60mph‡
S 450 4MATIC® SEDAN:
POWER: 362hp @ 5,500 – 6,000
TORQUE: 369 lb-ft torque @ 1,800 – 4,500 rpm
ACCELERATION: 5.4 sec 0-60mph‡
S 560 SEDAN: POWER: 463hp @ 5,250 – 5,500
TORQUE: 516 lb-ft torque @ 2,000 – 4,000
rpm ACCELERATION: 4.6 sec 0-60mph‡
S 560 4MATIC® SEDAN:
POWER: 463hp @ 5,250 – 5,500
TORQUE: 516 lb-ft torque @ 2,000 – 4,000 rpm
ACCELERATION: 4.5 sec 0-60mph‡

Want to learn more about the S-Class? Check out these independent reviews, or contact a Mercedes-Benz Manhattan Sales Representative.
Road/Show by CNET offers a comprehensive review of the S-Class.
Car and Driver says "A shining example of what luxury should be."
Autoblog says "Mercedes-Benz's full-size S-Class flagship represents the pinnacle of luxury."

*Some systems are optional. Even the most advanced safety systems may not be sufficient to avoid an accident. It is the driver's responsibility at all times to be attentive to traffic and road conditions, and to provide the steering, braking and other driving inputs necessary to retain control of the vehicle. Drivers are cautioned not to wait for system alerts before braking or taking evasive action, as that may not afford sufficient time and distance. See Operator's Manual for system operating speeds and additional information and warnings. **Available only on rear-wheel-drive S 560 Sedan. ***Some features of ENERGIZING Comfort may be optional. ‡Stated rates of acceleration are based upon manufacturer's track results and may vary depending on model, environmental and road surface conditions, driving style, elevation and vehicle load.
Sign up below to schedule an appointment with your Mercedes-Benz Manhattan Sales Rep.
We'll also keep you up to date with our latest, exclusive partner benefits. Drive In. Be Spoiled.