Mercedes-Benz Metris Van
Get ready to take your business to the next level. Explore all the ways you can customize cargo and passenger vans to make them work for you. Available as a Passenger Van or Cargo Van.
New Mercedes-Benz Metris Vans For Sale in Manhattan, New York
The Mercedes-Benz Metris Van is the perfect companion for your business and is available now at Mercedes-Benz Manhattan. From passenger and cargo models to the two-wheelbase options, the Mercedes-Benz Metris Van allows drivers to easily navigate through narrow spaces with its tight turning diameter and has enough room for large loads or up to eight passengers. Check out our current Mercedes-Benz Metris service specials and offers.
Keep Your Business Moving in the Mercedes-Benz Metris Passenger and Cargo Vans
Whether you are looking for high performance, advanced safety features, or a cost-effective vehicle, the Mercedes-Benz Metris Van is the perfect addition to your business. Designed to meet the unique needs of businesses big or small, Mercedes-Benz Metris is the van for you.
The Mercedes-Benz Metris Van is reliable and efficient and provides value for the long haul. Be sure to contact us online to explore the Metris Van available, including special purpose vans, and discover which model is right for your business!

You focus on work. We'll focus on safety. At Mercedes-Benz, we're constantly developing new innovations to make sure your job gets done as safely as possible. CROSSWIND ASSIST Crosswind Assist helps you stabilize your van and boosts safety in strong, gusting crosswinds. This standard feature helps ensure your vehicle remains in its lane at highway speeds.† LOAD ADAPTIVE ELECTRONIC STABILITY PROGRAM (ESP®®) Standard on Metris vans, this dynamic handling system intervenes to help keep the van firmly under control and safe by automatically braking individual wheels and reducing engine power to help stabilize the vehicle if wheelspin, understeer or oversteer is detected. †† ATTENTION ASSIST®® Standard on Metris vans, Attention Assist® helps prevent drowsy driving by monitoring your driving patterns and providing an early warning signal in case fatigue is detected. ††† RESCUE ASSIST With the standard feature Rescue AssistSM first responders to an accident can scan a QR code in a Mercedes-Benz Van to quickly see where batteries, airbags or other structural elements are located in order to safely perform the rescue.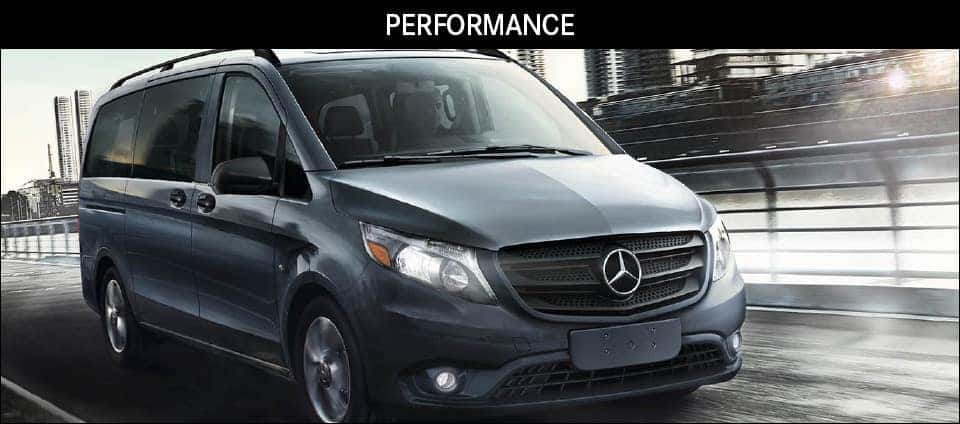 Engineered to perform. Built to withstand. From drivetrain to cabin design, we build our vans to deliver the utmost efficiency and performance.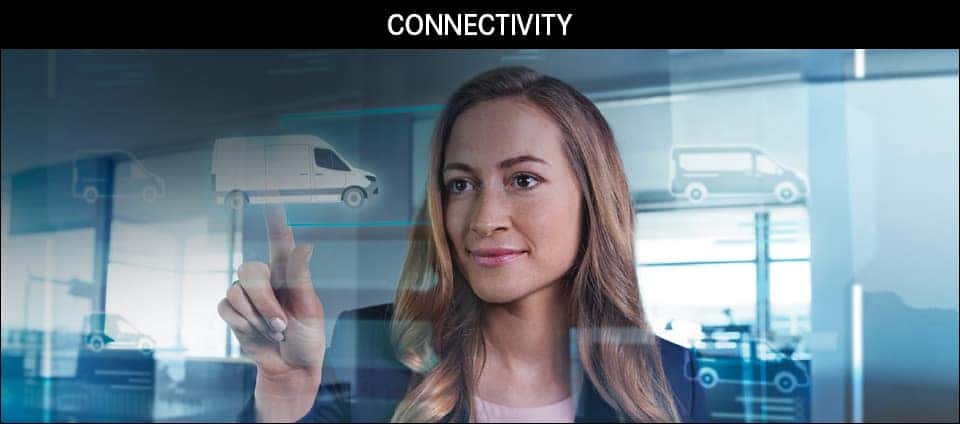 Take your business to the next level with Mercedes PRO CONNECT. Mercedes PRO is an integrated digital system that helps make your business safer, more efficient, and smarter than ever. Keep drivers, managers, and vehicles connected with intelligent technology that improves productivity and drives your business ahead.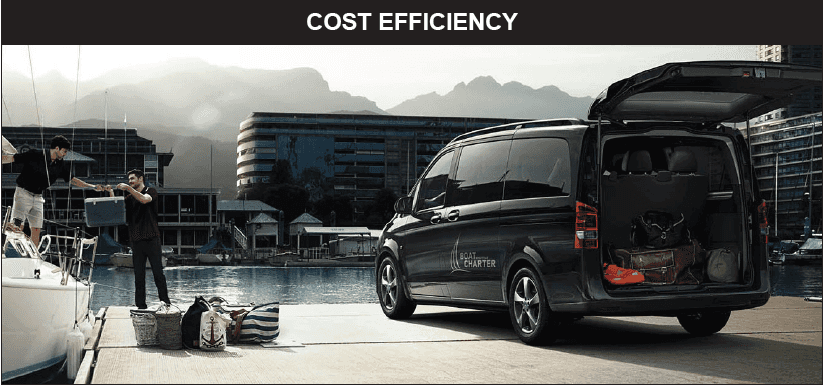 Our vans were built to keep you in motion. With legendary Mercedes-Benz durability and reliability, you'll spend your time and money on your business, not on your van. EFFICIENT GAS ENGINE A 208 hp 2.0L 4-cylinder turbocharged, Direct Injection engine gets you around and moving quickly. At an estimated combined EPA rating of 22mpg for Cargo and Passenger models, the midsize Metris offers fuel consumption comparable to that of a small-size van. 7-G TRONIC PLUS AUTOMATIC TRANSMISSION Refined for maximum efficiency and unmatched comfort, this quick-shifting 7-speed automatic transmission delivers better fuel economy, reduced noise, and longer service life. UP TO A 15,000 MILE SERVICE INTERVAL With an impressive service interval of 15,000 miles‡ your van will spend less time in the shop and more time on the job. OPTIONAL ECO START/STOP This function reduces fuel consumption and emissions by shutting off the engine when the vehicle is at a standstill, helping you lower the total cost of ownership.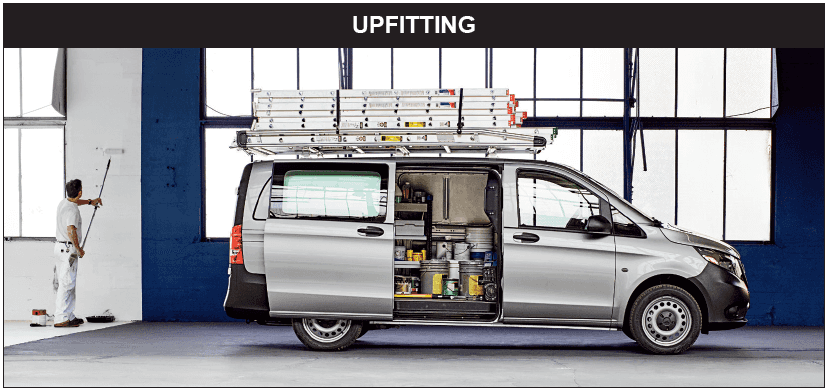 No van upfits like a Mercedes-Benz Metris van. Whether for business or pleasure, Mercedes-Benz Vans offer superior capabilities designed to fit your needs, no matter what they may be. Organize better, work faster, save more time. With a partition and upfit package that allows you to organize your equipment better, you can be safer and more efficient so you'll be on your way to the next job in no time. Learn more about Upfitting packages here.
Marcin Tomasvczyk of Midwest Building Maintenance has to service customers in and out of the city, and needs to carry shop vacs, floor buffers, and cleaning supplies. He does all this with one van: the Mercedes- Benz Metris. See how.

Sign up below to schedule an appointment with your Mercedes-Benz Manhattan Sales Rep. We'll also keep you up to date with our latest, exclusive partner benefits. Drive In. Be Spoiled.