Mercedes-AMG® GLS SUV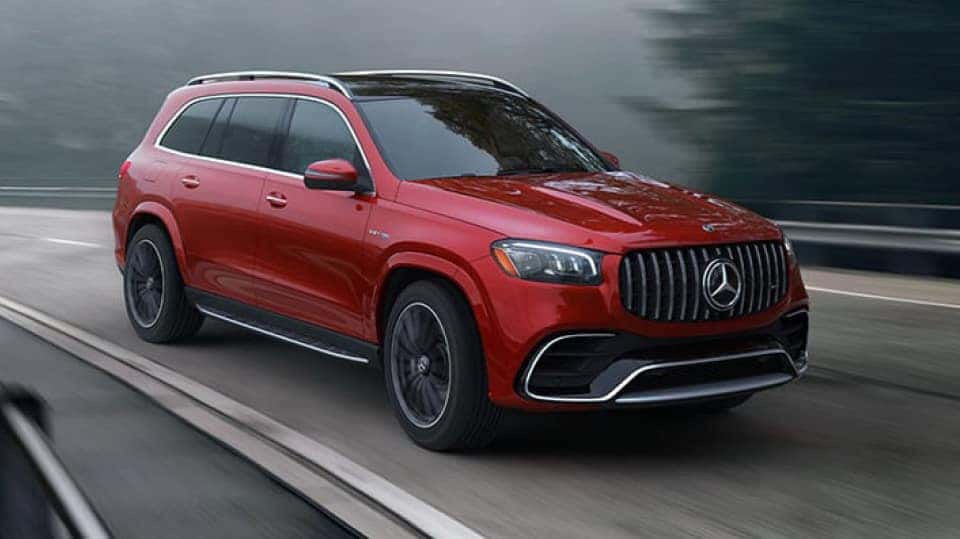 Three rows of seats, a pair of turbos, and countless innovations in performance, luxury and safety add up to an AMG® GLS like never before. From active suspension to electrified torque, it's more capable, comfortable, and commanding.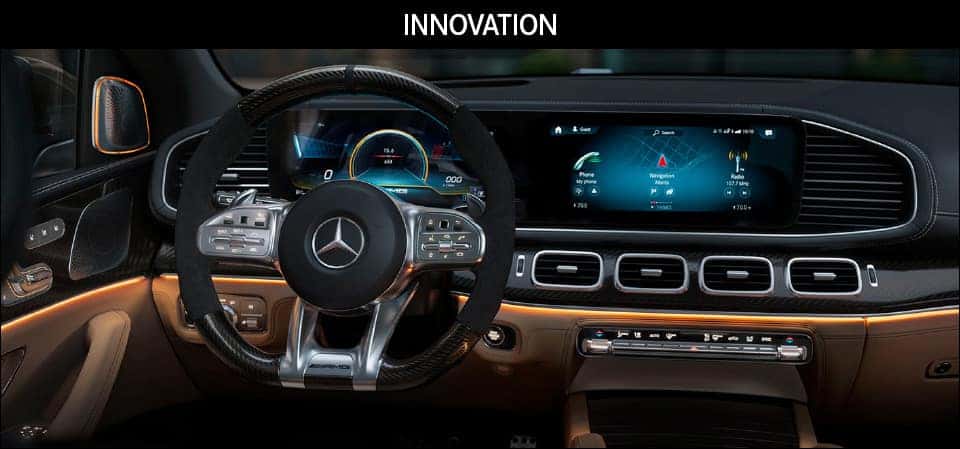 AMG® Performance 4MATIC®+ can transfer torque to where the traction is, varying from all-wheel drive to 100% rear-drive. Based on the grip at each tire, it can adapt to maximize launch grip, optimize cornering balance, or add confidence in any season.* AMG® ACTIVE RIDE CONTROL can quickly and continuously adapt the damping and ride height to conditions and your selected drive mode. Utilizing the vehicle's 48-volt architecture, innovative active roll stabilization can enhance handing, stability and comfort. The limited-slip rear differential's electronic control can lock it more quickly and precisely, based on changing demands as you corner, accelerate and brake on a variety of surfaces.* Massive power calls for supersized AMG® high-performance brakes. Fixed 6-piston front calipers, available in red or grey, act on 15.7-inch ventilated and perforated discs. Rear discs measure a sizable 14.6 inches. AMG® DYNAMIC SELECT lets you fine-tune performance via console control or the steering-wheel AMG® DRIVE UNIT. It can vary throttle mapping, shifting, suspension and more, with six programs from Comfort to Sport+ to Trail, plus an Individual mode you can customize. Inside and out, the GLS 63 is designed to unite performance and luxury in style. From its AMG® grille and aerodynamic detailing, it's strong and sleek. And from its digital cockpit and sumptuous seating, it seats seven in first-class comfort, with the driver at the head of the class. Fingertip control of gear changes, cabin features, and available performance settings keep you in charge with your hands on the AMG® Performance steering wheel. Four styles feature or pair Nappa leather, grippy DINAMICA microsuede and carbon fiber. Flared wheel arches are filled out by massive yet lightweight AMG® wheels in seven available styles, three of them in matte black. Sizes start at 21 inches and range to a class-leading 23 inches. The AMG® Night Package details the body with gloss black elements.§ Dual 12.3-inch digital displays pair reconfigurable instruments with a multimedia touchscreen. Multiple gauge styles include exclusive AMG® designs and readouts aligned with the modes of AMG® DYNAMIC SELECT.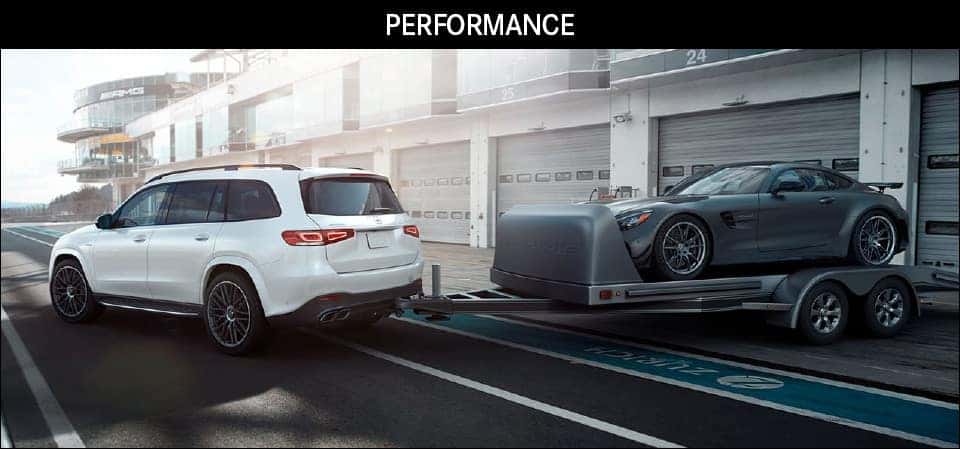 A Mercedes-AMG® engine starts with the state of the art. Everything from fuel pressure to exhaust routing is developed to quicken, heighten and intensify its response, and yours. From patented processes to cut friction to a new generation of electrified performance, AMG® technology is fueled by its racing success. In addition to twin turbos between the banks of the 603-hp handcrafted AMG® V8, a 48-volt EQ Boost Integrated Starter Generator can add up to 184 lb-ft of gas-free torque. The result is not just electrified, it's an electrifying 0-60 run in 4.1 seconds.‡ The AMG® SPEEDSHIFT® TCT 9-speed keeps the torrential torque on tap. In tune with in the modes of AMG® DYNAMIC SELECT, you can enjoy rev-matched downshifts, and quicker-then-ever paddle-shifted manual gear changes. Computer-controlled flaps in the AMG® Performance Exhaust unleash a performance symphony you can take from mellow growl to snarling crescendo on command, via the accelerator, the modes of AMG® DYNAMIC SELECT, or a dedicated switch.
AMG® GLS 63 SUV:
POWER: 603hp @ 5,750 – 6,500 rpm
TORQUE: 627 lb-ft torque @ 2,500 – 4,500 rpm
ACCELERATION: 4.1 sec 0-60mph‡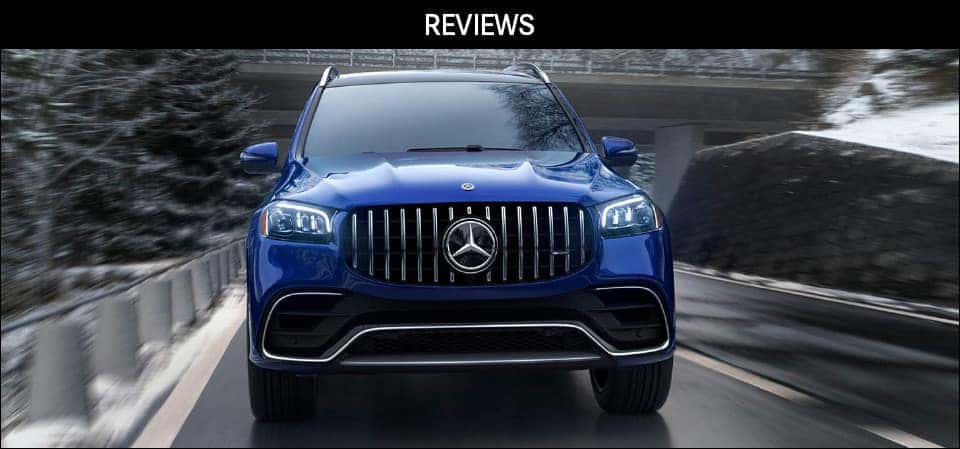 Want to learn more about the Mercedes-AMG® GLS SUV? Check out these independent reviews, or contact a Mercedes-Benz Manhattan Sales Representative.
Car and Driver provides a thorough review and the specifications of the 2021 Mercedes-AMG® GLS 63 SUV.
"AMG®'s newest mild hybrid is pretty wild," boasts MotorTrend about the 2021 Mercedes-AMG® GLS 63 SUV.
*Features are not for use on public roads or where people, animals or obstacles may be within range of the vehicle. Always obey local laws. See Operator's Manual for additional warnings and information. **Braking effectiveness also depends on proper brake maintenance, and tire and road conditions. See Operator's Manual for additional information and warnings. §Lower-aspect-ratio tires and accompanying wheels provide substantially increased treadwear, increased tire noise and reduced ride comfort. Serious wheel and tire damage may occur if the vehicle is operated on rough or damaged road surfaces or upon encountering road debris or obstacles. These tires are not designed for use on snow and ice. Winter tires mounted on appropriately sized and approved wheels are recommended for driving in those conditions. Vehicle is provided with TIREFIT sealant and a portable air pump in lieu of a spare wheel. §§Display may not be visible with certain eyewear, including polarized glasses. While the navigation system provides directional assistance, the driver must remain focused on safe driving behavior, including paying attention to traffic and street signs. The driver should utilize the system's audio cues while driving and should only consult the map or visual displays once the vehicle has been stopped in a safe place. Maps do not cover all areas or all routes within an area. ‡Stated rates of acceleration are based upon manufacturer's track results and may vary depending on model, environmental and road surface conditions, driving style, elevation and vehicle load. ‡‡No system, regardless of how advanced, can overcome the laws of physics or correct careless driving. Please always wear your seat belt. Performance is limited by available traction, which snow, ice and other conditions can affect. Always drive carefully, consistent with conditions. Best performance in snow is obtained with winter tires.
Sign up below to schedule an appointment with your Mercedes-Benz Manhattan Sales Rep. We'll also keep you up to date with our latest, exclusive benefits.
Drive In. Be Spoiled.