Mercedes-AMG® GLC Coupe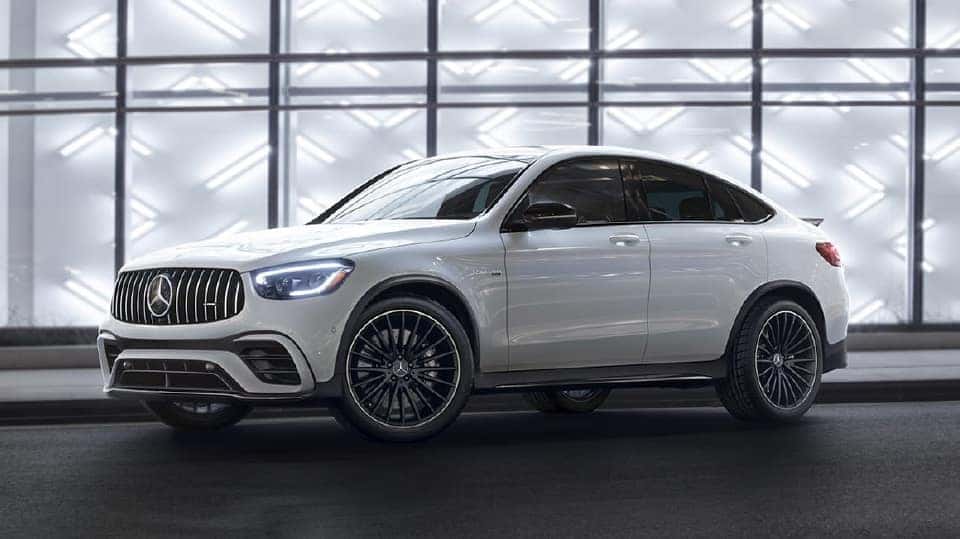 Mix the substance of a Mercedes-Benz SUV with the style of a freshly emboldened coupe, and then infuse it with the pedigreed performance of AMG®. The result? Poise and presence in bold proportions. And power served in three strengths, from spicy to molten.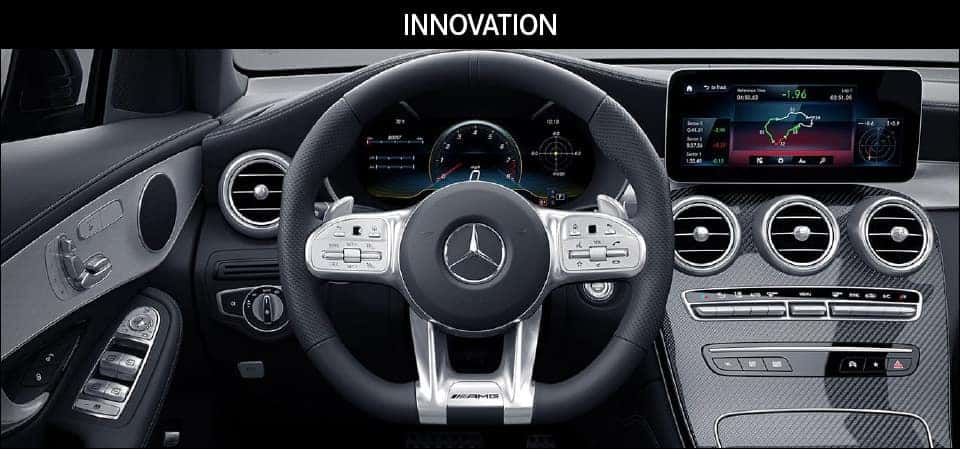 Deeply bolstered sport seats, exclusive AMG® gauges and performance readouts, and a thick flat-bottom steering wheel reward your every driving maneuver. True coupe luxury and design meet AMG® personality and personalization, with a wide selection of rich finishes and racing-rooted upgrades. The new AMG® Performance steering wheel includes Touch Control Buttons and comes trimmed in any of four finishes from Nappa leather to carbon fiber and DINAMICA microsuede. You can add the new AMG® DRIVE UNIT controls to any of them. Legendary for quality and style, AMG® wheels are available in multiple designs for each AMG® GLC SUV. All three models feature standard 20-inch wheels. Options include black finishes and 21-inch sizes, plus two forged wheels for the GLC 63 S. The chiseled muscle of AMG® bodywork further tones the GLC physique. Each model underscores its recontoured vertical-bar AMG® grille with distinctive lower bodywork. Styling packages add accents in gloss black or carbon fiber, aero elements for the V8, and an AMG® Performance Studio motif for the GLC 43.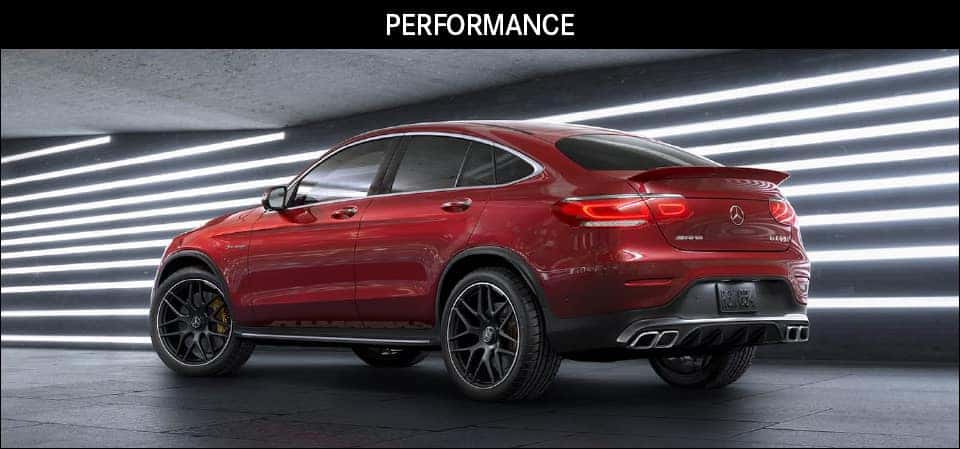 A Mercedes-AMG® engine only starts with the state of the art. From there, everything from fuel pressure to exhaust routing is developed to quicken, heighten and intensify its response, and yours. Developed for AMG®'s racecars, patented NANOSLIDE® cylinder walls cut friction, raising endurance and power. With higher boost and lower friction, the fortified biturbo V6 in the GLC 43 puts out 385 hp, good for 0-60 in 4.7 seconds. Handcrafted biturbo V8s release a stampede of horsepower, for 0-60 in 3.8 seconds in the 469-hp GLC 63, and 3.6 seconds in the 503-hp GLC 63 S.‡ A quick-thinking paddle-shifted AMG® SPEEDSHIFT® TCT 9-speed keeps you in charge of the GLC 43's 384 lb-ft of torque. In both GLC 63 Coupes, the multiclutch AMG® SPEEDSHIFT® MCT 9-speed is masterful at keeping you on top their mountains of torque. Both setups offer multiple modes and can downshift multiple gears. AMG® Performance 4MATIC® turns torque into traction and agility. The GLC 43's 31:69 rear bias quickens takeoffs and clings to corners. Variable-torque 4MATIC®+ in the GLC 63 and GLC 63 S can send up to 100% of the engine's torque to the rear axle.‡‡
Based on self-lowering, multimode AIR BODY CONTROL, the AMG® Sport Suspension is just one of the performance parameters you can set up to your liking via AMG® DYNAMIC SELECT. Its five driving programs also let you dial in the shifting, exhaust sound and more. Substantially sized brake discs are cast with their perforations in place, not drilled later, to better manage the stress of hard braking. Multipiston fixed front calipers apply their powerful force more evenly. Ceramic compound front brakes are a GLC 63 S option.* AMG® DYNAMIC SELECT lets you alter the shifting behavior, throttle and steering feel, suspension damping and more via a console paddle. Drive modes range from Comfort to Slippery to Sport+, plus an Individual mode you can customize. The GLC 63 S adds a track-focused RACE mode.** The available new AMG® DRIVE UNIT puts key performance controls directly on the steering wheel. AMG® DYNAMIC SELECT modes and other features are easy to set on the fly, with color graphical displays integrated into each control. The available AMG® Performance Exhaust (standard on the GLC 63 and 63 S) features internal flaps and multiple modes. So you can unleash a grin-inducing symphony of torque-rich rumble at the touch of a button. Or bring it down to a mellow growl to keep your neighbors happy.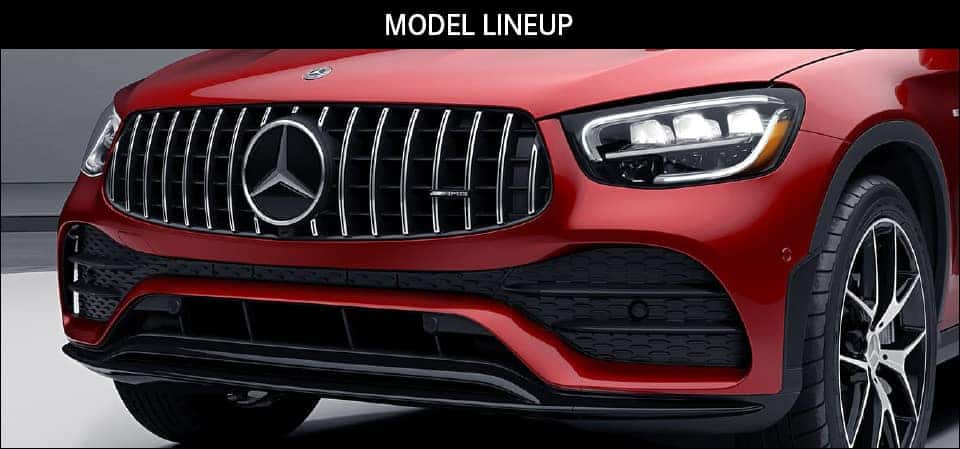 AMG® GLC 43 COUPE:
POWER: 385hp @ 6,100 rpm
TORQUE: 384 lb-ft torque @ 2,500 – 5,000 rpm
ACCELERATION: 4.7 sec 0-60mph‡
AMG® GLC 63 COUPE:
POWER: 469hp @ 5,500 – 6,250 rpm
TORQUE: 479 lb-ft torque @ 1,750 – 4,500 rpm
ACCELERATION: 3.8 sec 0-60mph‡
AMG® GLC 63 S COUPE:
POWER: 503hp @ 5,500 – 6,250 rpm
TORQUE: 516 lb-ft torque @ 2,000 – 4,500 rpm
ACCELERATION: 3.6 sec 0-60mph‡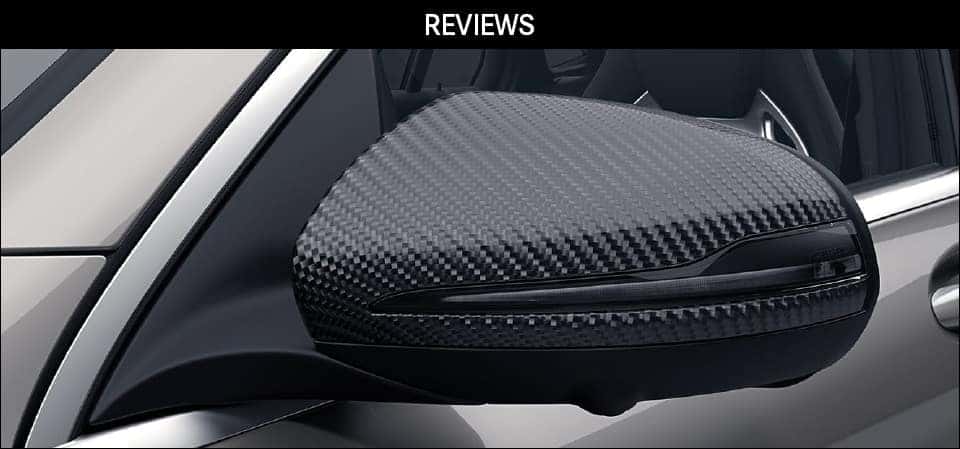 Want to learn more about the Mercedes-AMG® GLC Coupe? Check out these independent reviews, or contact a Mercedes-Benz Manhattan Sales Representative.
‡Stated rates of acceleration are based upon manufacturer's track results and may vary depending on model, environmental and road surface conditions, driving style, elevation and vehicle load. ‡‡No system, regardless of how advanced, can overcome the laws of physics or correct careless driving. Please always wear your seat belt. Performance is limited by available traction, which snow, ice and other conditions can affect. Always drive carefully, consistent with conditions. Best performance in snow is obtained with winter tires. *The carbon-ceramic brakes are designed expressly for high-performance braking. It is a characteristic of their materials and design that brake noise/squeal may result, along with differing brake pedal feel at lower brake temperatures compared to higher operating temperatures. **Obey local speed and traffic laws.
Sign up below to schedule an appointment with your Mercedes-Benz Manhattan Sales Rep. We'll also keep you up to date with our latest, exclusive benefits.
Drive In. Be Spoiled.