Mercedes-AMG® GLA SUV

The most powerful 4-cylinder in production has grown more powerful. And its 382 hp propels an all-new GLA 45 that's grown more capable, advanced, and appealing. It's also grown a new sibling: the equally advanced and appealing 302-hp GLA 35 SUV.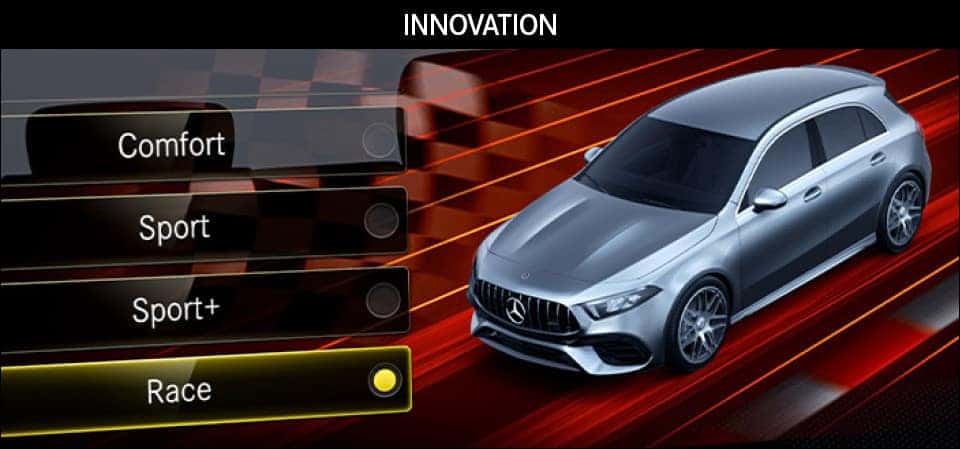 AMG® racing know-how turns torrential power and torque into grip and control. Advanced all-wheel drive and precisely tuned chassis systems team up to deliver agile response, crisp feedback and a serious capability to deliver the fun. The double-wishbone front/multilink rear suspension combines rigidity, versatility and lightness. Standard 3-stage AMG® RIDE CONTROL® can adapt each wheel's damping in milliseconds. AMG® DYNAMIC SELECT lets you fine-tune performance settings via a console button. Modes range from Slippery to Sport+, plus an Individual setup, as well as RACE on the GLA 45. The available AMG® DRIVE UNIT adds drive-mode controls with color displays to the steering wheel.* The AMG® Dynamic PLUS Package endows the GLA 45 with the AMG® DRIVE UNIT on a Nappa/DINAMICA steering wheel, and larger composite brakes with red calipers. AMG® Track Pace lets you record and analyze your track skills.* Racing-bred AMG® high-performance brakes feature silver (GLA 35) or grey (GLA 45) 4-piston front calipers clamping 13.8-inch perforated discs. The AMG® Dynamic PLUS Package upsizes the GLA 45 to 14.2-inch front discs and red 6-piston calipers.** The digital cockpit's vivid displays, touch controls, intelligent voice assistant, and ergonomic controls intensify the bond of driver and vehicle. Power sport front seats or available AMG® Performance seats support your driving moves. The flat-bottom steering wheel features Touch Control Buttons, shift paddles and Nappa leather trim. Three AMG® Performance options are stitched in Nappa leather, grippy DINAMICA microsuede, or a combo. You can adjust the 64-color ambient lighting to suit your mood. Already one of the sportiest SUVs on four wheels, you get a choice of seven designs in three sizes in an AMG® GLA. Silver and black AMG® wheel options include 19-, 20- and 21-inch sizes.§ Dual 10.25-inch digital displays include a central multimedia touchscreen and reconfigurable AMG® instruments, readouts and menus. An available Head-Up Display projects key driving information closer to your natural line of sight.§§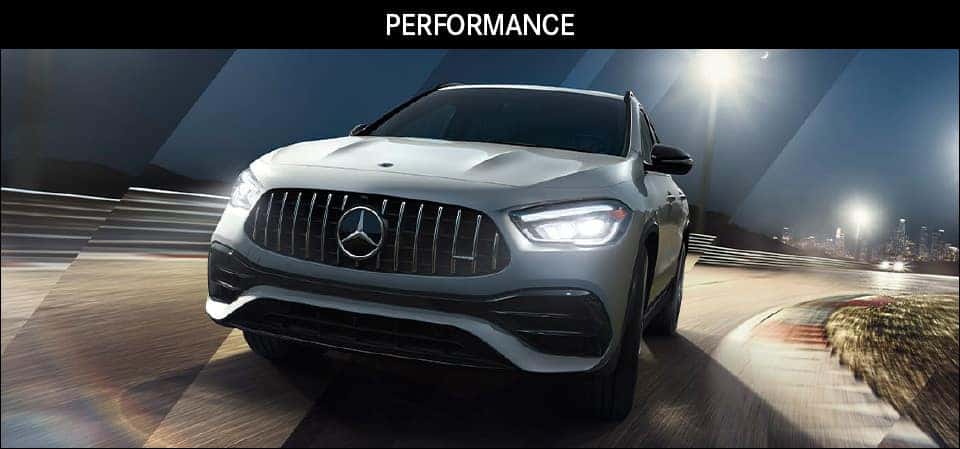 A Mercedes-AMG® engine starts with the state of the art. Everything from fuel pressure to exhaust routing is developed to quicken, heighten and intensify its response, and yours. From patented processes to cut friction to a new generation of electrified performance, AMG® technology is fueled by its racing success. Two 2.0L twin-scroll turbo engines let you have your AMG® GLA in two strengths: mighty or almighty. The 302-hp GLA 35 can sprint to 60 in 5.1 seconds. A handcrafted 382-hp engine, the most powerful 4-cylinder in production, catapults the GLA 45 to 60 in just 4.3 seconds.‡ The dual-clutch AMG® SPEEDSHIFT® 8-speed can change gears more quickly than a human. Along with a range of modes and paddle shifts, the GLA 45 adds a RACE START function. Rev-matched downshifts and partial ignition cutoff during upshifts benefit response, feel and sound. AMG® Performance 4MATIC® computes driving inputs, speed and g-forces so its electromechanical clutch packs can send torque to the tires that can use it best. Rear-axle torque-vectoring further sharpens the GLA 45's AMG® Performance 4MATIC®+.‡‡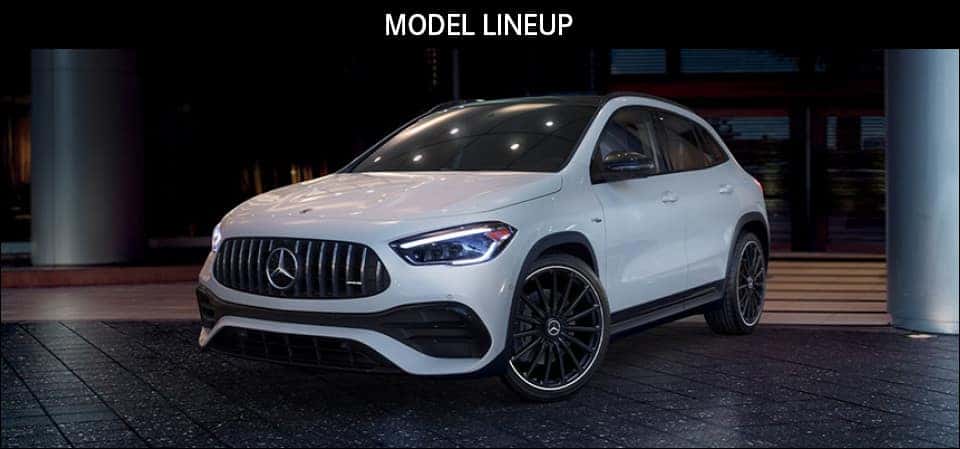 AMG® GLA 45 SUV:
POWER: 382hp @ 6,500 rpm
TORQUE: 354 lb-ft torque @ 4,750 – 5,000 rpm
ACCELERATION: 4.3 sec 0-60mph‡
AMG® GLA 35 SUV:
POWER: 302hp @ 5,800 – 6,100 rpm
TORQUE: 295 lb-ft torque @ 3,000 – 4,000 rpm
ACCELERATION: 5.1 sec 0-60mph‡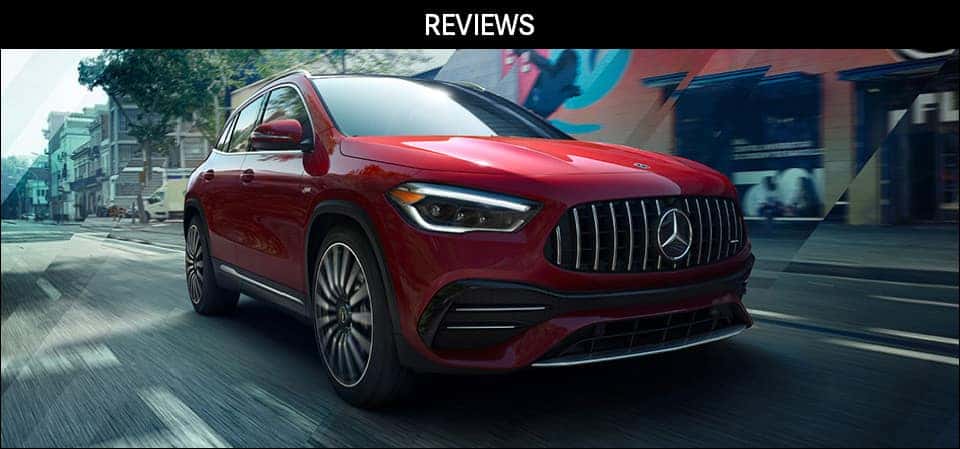 Want to learn more about the Mercedes-AMG® GLA SUV? Check out these independent reviews, or contact a Mercedes-Benz Manhattan Sales Representative.
AutoTrader reviews the Mercedes-AMG® GLA 45 S.
Mercedes Lounge fawns over the 2021 Mercedes-AMG® GLA 35 SUV and test drives it in a parking lot.
*Features are not for use on public roads or where people, animals or obstacles may be within range of the vehicle. Always obey local laws. See Operator's Manual for additional warnings and information. **Braking effectiveness also depends on proper brake maintenance, and tire and road conditions. See Operator's Manual for additional information and warnings. §Lower-aspect-ratio tires and accompanying wheels provide substantially increased treadwear, increased tire noise and reduced ride comfort. Serious wheel and tire damage may occur if the vehicle is operated on rough or damaged road surfaces or upon encountering road debris or obstacles. These tires are not designed for use on snow and ice. Winter tires mounted on appropriately sized and approved wheels are recommended for driving in those conditions. Vehicle is provided with TIREFIT sealant and a portable air pump in lieu of a spare wheel. §§Display may not be visible with certain eyewear, including polarized glasses. While the navigation system provides directional assistance, the driver must remain focused on safe driving behavior, including paying attention to traffic and street signs. The driver should utilize the system's audio cues while driving and should only consult the map or visual displays once the vehicle has been stopped in a safe place. Maps do not cover all areas or all routes within an area. ‡Stated rates of acceleration are based upon manufacturer's track results and may vary depending on model, environmental and road surface conditions, driving style, elevation and vehicle load. ‡‡No system, regardless of how advanced, can overcome the laws of physics or correct careless driving. Please always wear your seat belt. Performance is limited by available traction, which snow, ice and other conditions can affect. Always drive carefully, consistent with conditions. Best performance in snow is obtained with winter tires.
Sign up below to schedule an appointment with your Mercedes-Benz Manhattan Sales Rep. We'll also keep you up to date with our latest, exclusive benefits.
Drive In. Be Spoiled.