Mercedes-AMG® E-Class Coupe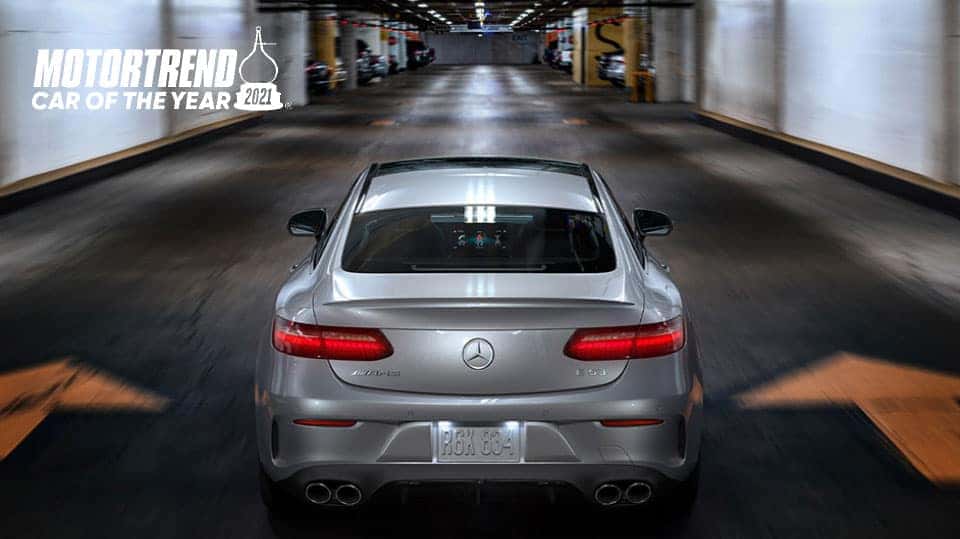 There's no feeling quite like opening up an AMG® coupe. The E 53 wraps the industry-advancing innovation of the E-Class with a powertrain that brings classic muscle into the future.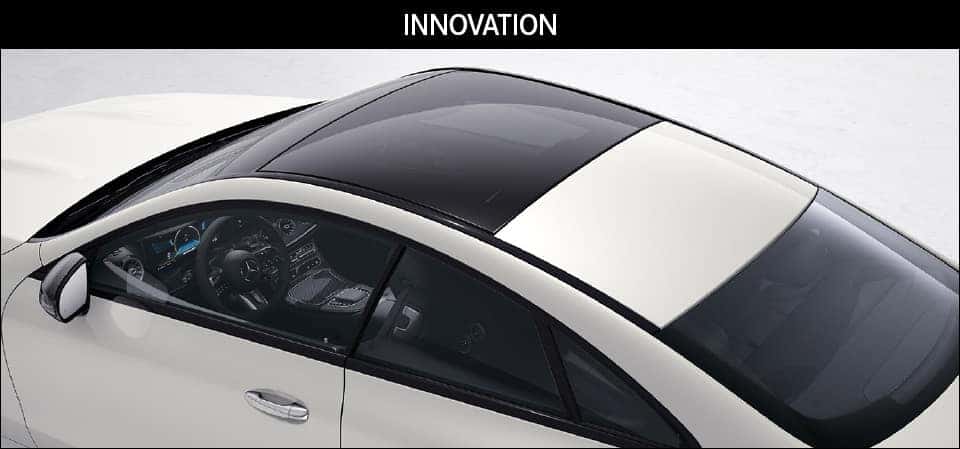 An AMG® E-Class benefits from 50-plus years of racing victory through the direct involvement of the same teams in its development. From chassis setups to the fine-tuning of its controls, AMG® performance is defined by orchestrated, integrated teamwork. Fully variable AMG® Performance 4MATIC®+ can send torque to the wheels that can best turn traction into action. From launch grip to cornering, 4MATIC®+ can go from 50/50 front/ rear, up to 100% RWD.* AMG® Performance brakes feature substantial, perforated and ventilated 14.6-inch front discs with beefy 4-piston calipers.** Based on AIR BODY CONTROL, the AMG® Sport Suspension turns pressurized air into pure agility. It can adapt in milliseconds to changing roads, loads, and the modes of AMG® DYNAMIC SELECT. It's self-lowering, self-leveling, and equal parts tenacity and composure.
Within the unimpeded vistas of its pillarless design, the E 53 Coupe cockpit presents driving information via widescreen displays and a wide array of intuitive touch and voice controls. Vertical grille bars evoke a deep racing legacy. A deep front apron, rear spoiler, and sleek LED lighting pierce the future. The E 53's AMG® performance heritage shines on every surface of its body, or the road. Dual 12.3-inch screens include a reconfigurable digital instrument panel with exclusive AMG® performance readouts. Available AMG® Track Pace lets you graph your skills on the central touchscreen. Expressive style starts with a range of leathers and nine trim options. And you can tailor the cabin to suit your mood, over and over, with 64-color LED ambient lighting, plus available multicontour front seats. Offered in three finishes, the AMG® Performance steering wheel features a new twin-spoke design with capacitive touch controls. The standard AMG® DRIVE UNIT puts performance controls right on the wheel. Standard 19-inch AMG® wheels, or any of four 20-inch options, take a confident stance on handling. Wider rear wheels enhance grip at launch, with front wheels sized for crisp steering feedback.§ AMG® Carbon Fiber and Night Packages further embolden the E 53 Coupe. A new dark-tinted grille option deepens the blackout effect of the Night Package.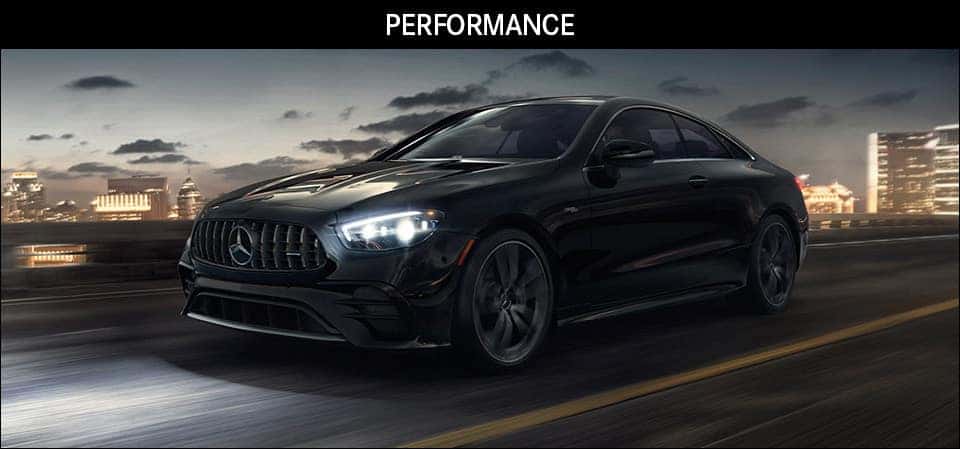 A Mercedes-AMG® engine starts with the state of the art. Everything from fuel pressure to exhaust routing is developed to quicken, heighten and intensify its response, and yours. From patented processes to cut friction to a new generation of electrified performance, AMG® technology is fueled by its racing success. A twin-scroll turbo plus an electric auxiliary compressor pump up the high-tech inline-6 to 429 hp, 384 lb-ft, and 0-60 in just 4.3 seconds. Electric EQ Boost can add 21 hp of its own. The AMG® SPEEDSHIFT® TCT 9-speed offers multiple modes and multigear downshifts.‡ AMG® DYNAMIC SELECT lets you fine-tune your car's performance via controls on the console or the standard steering-wheel AMG® DRIVE UNIT. Five driving modes, one customizable, adapt the throttle, shifting, chassis and more from Slippery to Sport+. The AMG® Sport Exhaust turns the rise and ebb of rpm into a rousing soundtrack. With multimode internal flaps, the available AMG® Performance Exhaust lets you heighten the crescendos, or tone them down.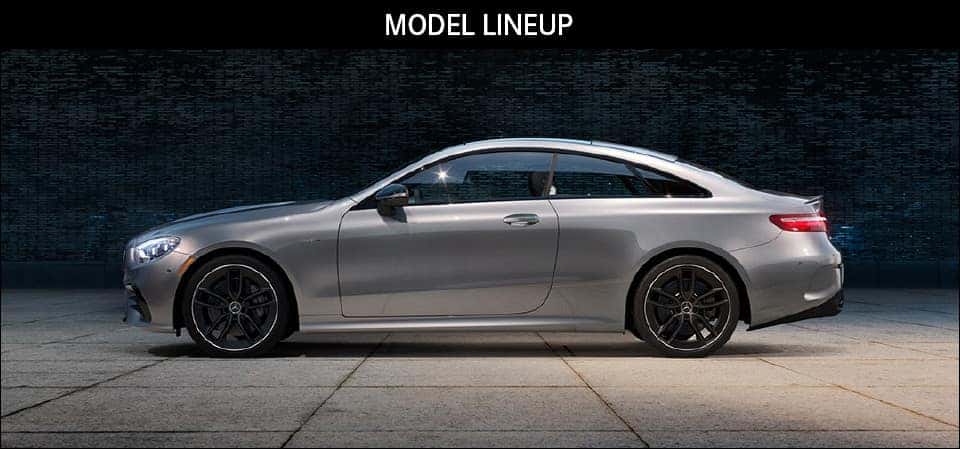 AMG® E 53 COUPE:
POWER: 603hp @ 5,750 – 6,500 rpm
TORQUE: 627 lb-ft torque @ 2,500 – 4,500 rpm
ACCELERATION: 3.3 sec 0-60mph‡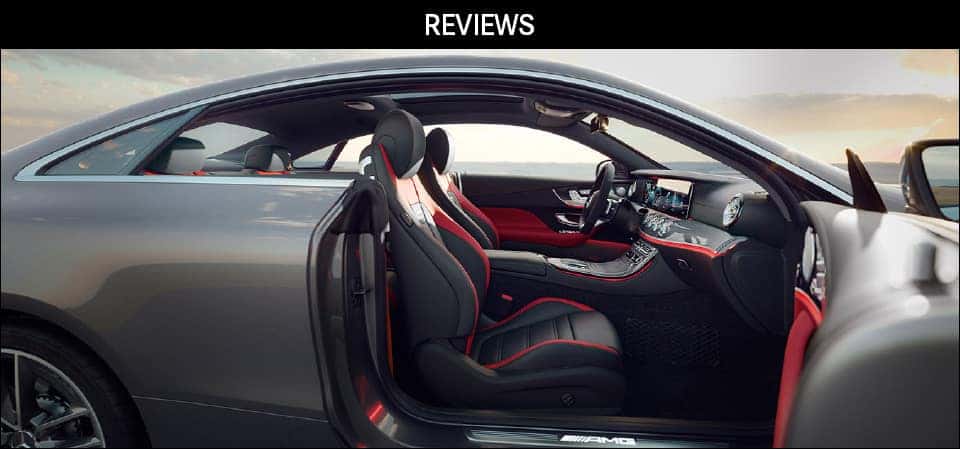 Want to learn more about the Mercedes-AMG® E-Class Coupe? Check out these independent reviews, or contact a Mercedes-Benz Manhattan Sales Representative.
*No system, regardless of how advanced, can overcome the laws of physics or correct careless driving. Please always wear your seat belt. Performance is limited by available traction, which snow, ice and other conditions can affect. Always drive carefully, consistent with conditions. Best performance in snow is obtained with winter tires. **Braking effectiveness also depends on proper brake maintenance, and tire and road conditions. See Operator's Manual for additional information and warnings. § Lower-aspect-ratio tires and accompanying wheels provide substantially increased treadwear, increased tire noise and reduced ride comfort. Serious wheel and tire damage may occur if the vehicle is operated on rough or damaged road surfaces or upon encountering road debris or obstacles. These tires are not designed for use on snow and ice. Winter tires mounted on appropriately sized and approved wheels are recommended for driving in those conditions. ‡ Stated rates of acceleration are based upon manufacturer's track results and may vary depending on model, environmental and road surface conditions, driving style, elevation and vehicle load.
Sign up below to schedule an appointment with your Mercedes-Benz Manhattan Sales Rep. We'll also keep you up to date with our latest, exclusive benefits.
Drive In. Be Spoiled.