Mercedes-AMG® C-Class Sedan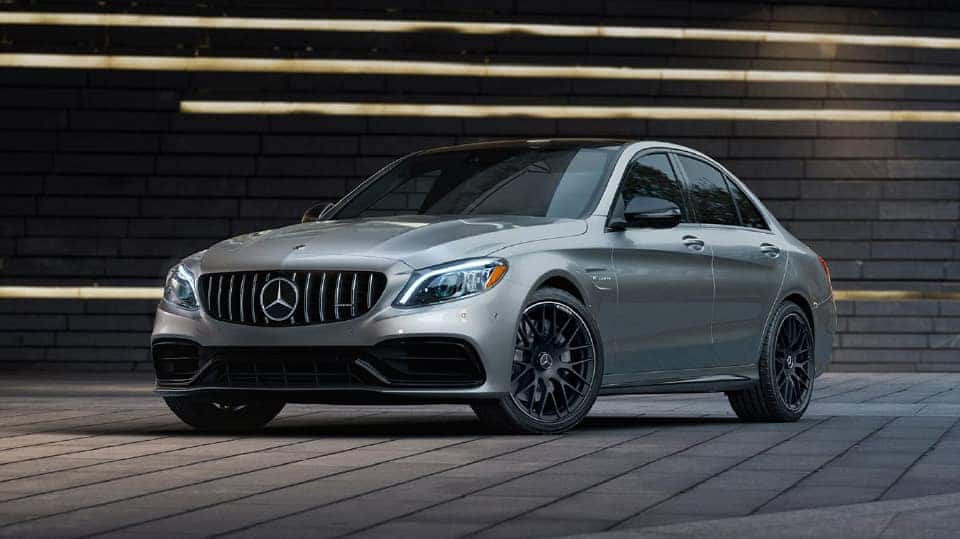 No car in its segment can claim the performance pedigree of an AMG® C-Class. Countless German Touring Car Championships fill its trophy case. And with thundering power and lightning-quick response, it's a fitting trophy for your own garage.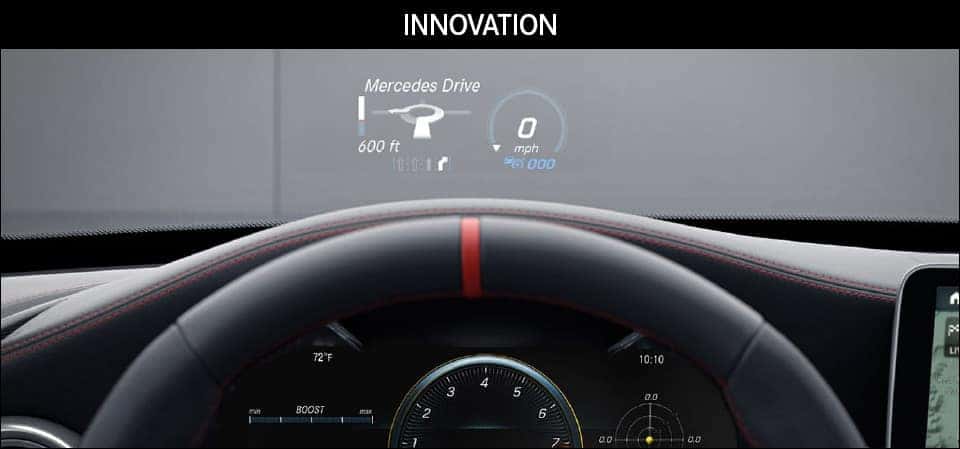 Every control, instrument and surface in an AMG® C-Class is designed to feel just right. A spectrum of finishes and seat options is only the start of making it personal. Ongoing options include a reconfigurable 12.3-inch digital instrument panel, and standard ambient lighting with 64 colors to choose and combine. Distinctive elements set every AMG® C-Class apart, from each other and the competition. The C 43's twin-crossbar grille is paired with a deep front apron. Vertical grille bars and individually detailed lower bodywork define the aero-aggressive C 63 and C 63 S. Brilliant LED lighting is standard front and rear. The AMG® Performance steering wheel features intuitive Touch Control Buttons and as many as five finish options, from full Nappa leather to accents of carbon fiber or DINAMICA microsuede. An available AMG® DRIVE UNIT places one-touch driving controls with color displays right on the wheel. A pair of styling packages accent your own sense of style. Jet-black elements add bold contrast from the front apron to the wheels to each model's distinctive quad tailpipes in the AMG® Night Package. The side mirror housings and rear spoiler can also be rendered in genuine carbon fiber. AMG® wheels are substantial, stylish, and staggered in width. The C 43 and C 63 each feature 18-inch wheels standard, each model with its own design, plus as many as four 19-inch options available. The C 63 S wears standard 19s, or either of two 19-inch forged options it shares with the C 63. *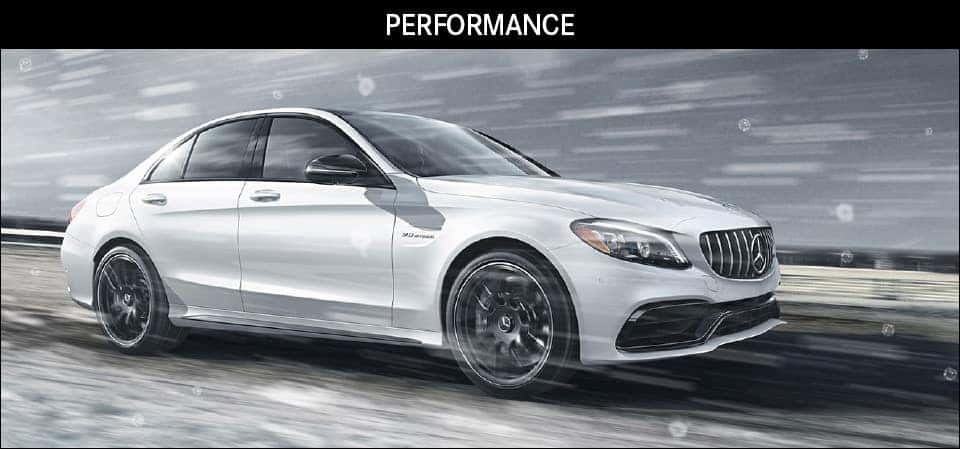 A Mercedes-AMG® engine only starts with the state of the art. From there, everything from fuel pressure to exhaust routing is developed to quicken, heighten and intensify its response, and yours. Developed for AMG®'s racecars, patented NANOSLIDE® cylinder walls cut friction, raising endurance and power. A deep infusion of AMG® racing know-how pumps up the AMG® C 43's biturbo V6 muscle to 385 hp. Increased turbo boost, reduced friction and numerous internal fortifications add up to strong response, starting with a 0-60 rush of just 4.5 seconds. ‡ Every AMG® C-Class features a quick-shifting 9-speed. Both the multiclutch AMG® SPEEDSHIFT® MCT in the C 63 models and the C 43's AMG® SPEEDSHIFT® TCT offer multiple modes and direct multi-gear downshifts with just the double-click of a shift paddle. Handcrafted biturbo V8s make the 469-hp C 63 and 503-hp C 63 S two of the most powerful sedans in their class, for 0-60 in as little as 3.8 seconds. The turbos are set inside the "hot V" of the engine, minimizing lag and losses to keep torque at a torrent.‡ Absolute power is of little use unless you absolutely know how to use it. From the performance all-wheel drive of the C 43, to the electronic limited-slip differential in the rear-wheel C 63 and C 63 S, to the adaptive air suspension in them all, every AMG® C-Class is equipped to turn torque into talent.‡ ‡ AMG® Performance 4MATIC® was developed to turn grip in to go without sacrificing the agility that AMG® drivers cherish. With light weight and a 69% rear-axle torque bias, a C 43 delivers more assertive launches, crisper cornering, added confidence in the wet or winter, and admirable efficiency year-round. ‡ ‡ AMG® DYNAMIC SELECT lets you alter the shifting behavior, throttle and steering feel, suspension damping and more by tapping a paddle on the console. Drive modes range from Comfort to Slippery to Sport+, plus an Individual mode you can configure for yourself. The C 63 S adds a tracktuned RACE mode.‡ ‡ AMG® RIDE CONTROL is an adaptive, multimode suspension that can turn pressurized air into poised agility. It lowers at speed. It responds in milliseconds to changing roads, loads, and the modes of AMG® DYNAMIC SELECT. And while it clings hard in corners, it's easygoing on your everyday commute. AMG® brakes are engineered to gain your confidence as they shed speed. Perforated discs and multipiston front calipers at least 14.2 inches in diameter help disperse the heat of the moment, in the moment. For extreme endurance, AMG® Ceramic Composite front brakes are an exclusive C 63 S option.§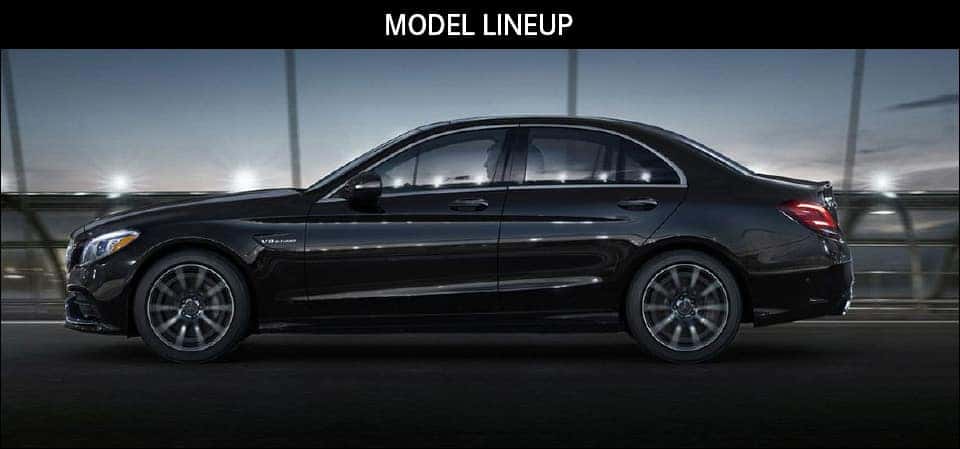 AMG® C 43 SEDAN:
POWER: 385hp @ 6,100 rpm
TORQUE: 384 lb-ft torque @ 2,500 – 5,000 rpm
ACCELERATION: 4.5 sec 0-60mph‡
AMG® C 63 SEDAN:
POWER: 469hp @ 5,500 – 6,250 rpm
TORQUE: 479 lb-ft torque @ 1,750 – 4,500 rpm
ACCELERATION: 3.9 sec 0-60mph‡
AMG® C 63 S SEDAN:
POWER: 503hp @ 5,500 – 6,250 rpm
TORQUE: 516 lb-ft torque @ 1,750 – 4,500 rpm
ACCELERATION: 3.8 sec 0-60mph‡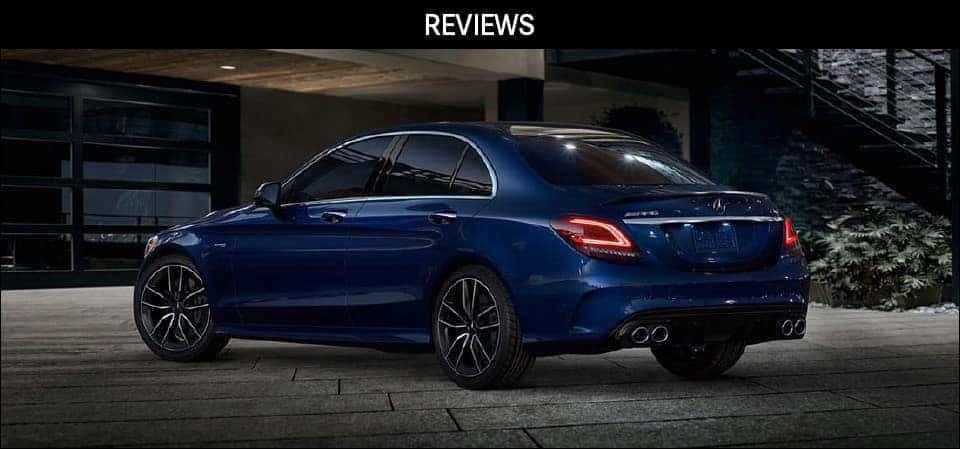 Want to learn more about the Mercedes-AMG® C-Class Sedan? Check out these independent reviews, or
contact a Mercedes-Benz Manhattan Sales Representative.
Discover why Car and Driver gives the 2021 Mercedes-AMG® C 43 a 9 out of 10.
*Lower-aspect-ratio tires and accompanying wheels provide substantially increased treadwear, increased tire noise and reduced ride comfort. Serious wheel and tire damage may occur if the vehicle is operated on rough or damaged road surfaces or upon encountering road debris or obstacles. These tires are not designed for use on snow and ice. Winter tires mounted on appropriately sized and approved wheels are recommended for driving in those conditions. Models equipped with Extended Mobility tires are not provided with a spare wheel. Vehicle is provided with TIREFIT sealant and a portable air pump in lieu of a spare wheel. ‡Stated rates of acceleration are based upon manufacturer's track results and may vary depending on model, environmental and road surface conditions, driving style, elevation and vehicle load. ‡‡Features are not for use on public roads or where people, animals or obstacles may be within range of the vehicle. Always obey local laws. See Operator's Manual for additional warnings and information. No system, regardless of how advanced, can overcome the laws of physics or correct careless driving. Please always wear your seat belt. Performance is limited by available traction, which snow, ice and other conditions can affect. Always drive carefully, consistent with conditions. Best performance in snow is obtained with winter tires. § Braking effectiveness also depends on proper brake maintenance, and tire and road conditions. See Operator's Manual for additional information and warnings. The carbon-ceramic brakes are designed expressly for high-performance braking. It is a characteristic of their materials and design that brake noise/squeal may result, along with differing brake pedal feel at lower brake temperatures compared to higher operating temperatures.
Sign up below to schedule an appointment with your Mercedes-Benz Manhattan Sales Rep. We'll also keep you up to date with our latest, exclusive benefits.
Drive In. Be Spoiled.