Mercedes-AMG® C-Class Coupe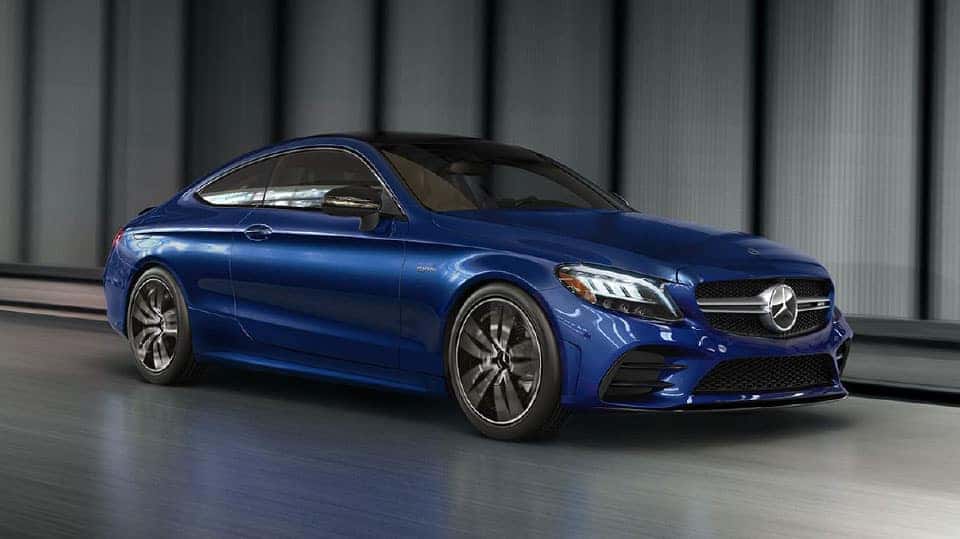 If you want a performance coupe with a great track record, an AMG® C-Class has a legacy filled with track records, including years of German Touring Car Championships. More than thoroughbreds, they can also make every day a thoroughly joyous drive.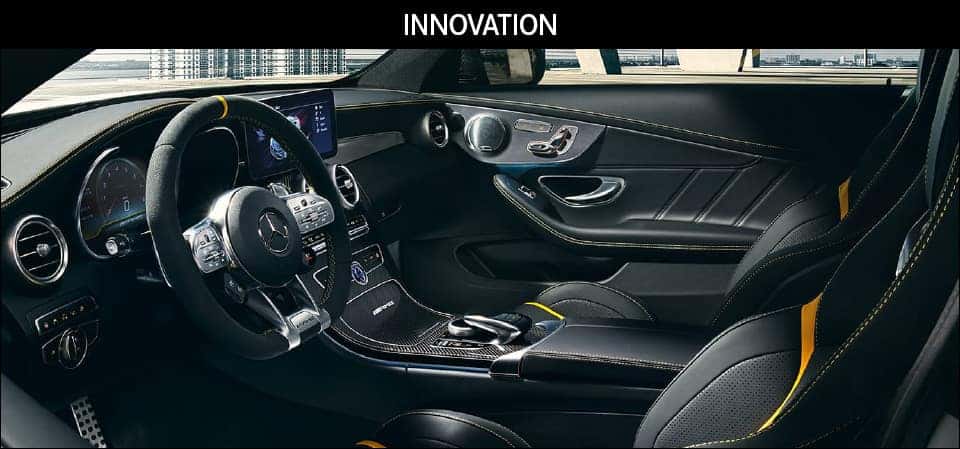 The AMG® C-Class cockpit envelops you in advanced tech. With Touch Control Buttons, shift paddles and a choice of trim options, the AMG® Performance steering wheel keeps it within easy reach. Vivid displays include a 10.25-inch center screen and an available 12.3-inch digital instrument panel. Distinctive details define the muscular bodies of each AMG® C-Class coupe, from their grilles to their tailpipes. AMG® wheel choices, at least four per model, range from 18 inches to mixed 19/20-inch forged-alloy options for the C 63 S. And styling options include gloss black and carbon fiber accents.* Power front sport seats or available AMG® Performance seats, along with a stylish range of upholstery and cabin trim options, let you tailor your C-Class for a perfect fit. And with a standard Panorama roof and 64-color LED cabin lighting, you can refresh its ambience any time you want.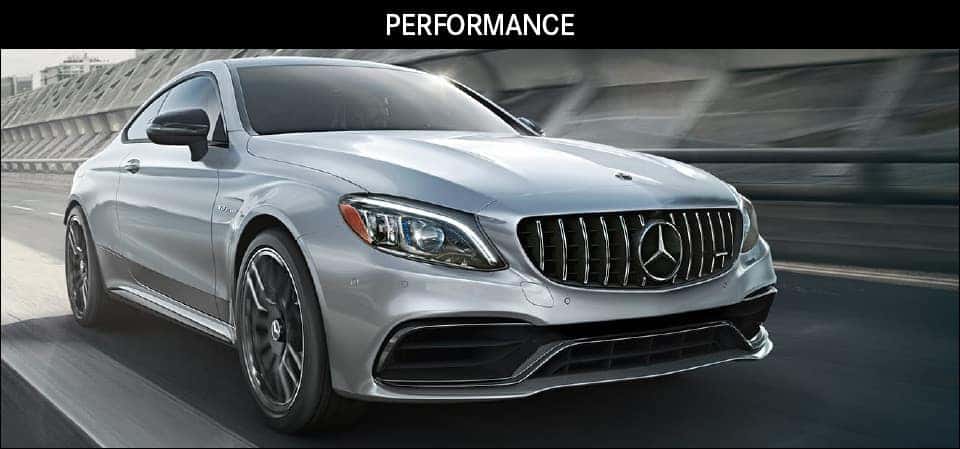 A Mercedes-AMG® engine only starts with the state of the art. From there, everything from fuel pressure to exhaust routing is developed to quicken, heighten and intensify its response, and yours. Developed for AMG®'s racecars, patented NANOSLIDE® cylinder walls cut friction, raising endurance and power. AMG® engineering and hardware fortify the AMG® C 43's biturbo V6, raising its output to 385 hp. Biturbo V8s, each engine handcrafted by its own master, make the 469-hp C 63 more powerful than any coupe in its segment, except for the 503-hp C 63 S.‡ The C 43's AMG® Performance 4MATIC® all-wheel drive combines light weight with a 31:69 front/rear torque split to match agility with tenacity. An electronically controlled limited-slip differential is standard in the C 63 and C 63 S, to brilliantly balance the torque sent to their rear wheels.‡ ‡ Every AMG® C-Class features a quick-shifting 9-speed. Both the multiclutch AMG® SPEEDSHIFT® MCT in the C 63 models and the C 43's AMG® SPEEDSHIFT® TCT offer multiple modes and direct multi-gear downshifts with just the double-click of the "minus" shift paddle. Adaptive AMG® RIDE CONTROL air suspension offers multiple modes and many talents. It lowers at speed. It can adapt the damping rate at each wheel in milliseconds to help take winding roads, hard turns and heavy loads in stride. With rigid components and flexible range, it's tracktuned and road-ready. AMG® DYNAMIC SELECT lets you alter the shifting, throttle, chassis and more via a console button. Modes include Comfort, Slippery, Sport+, and make-your-own Individual, plus RACE on the C 63 S. The available AMG® DRIVE UNIT places drive-mode controls with color displays right on the steering wheel.§ Multipiston fixed front calipers apply strong, more even braking force. Sizable discs are cast with their perforations in place, not drilled later. Racing-proven compound front discs on the AMG® C 63 S can be upgraded to extreme-performance Ceramic Composite brakes.§§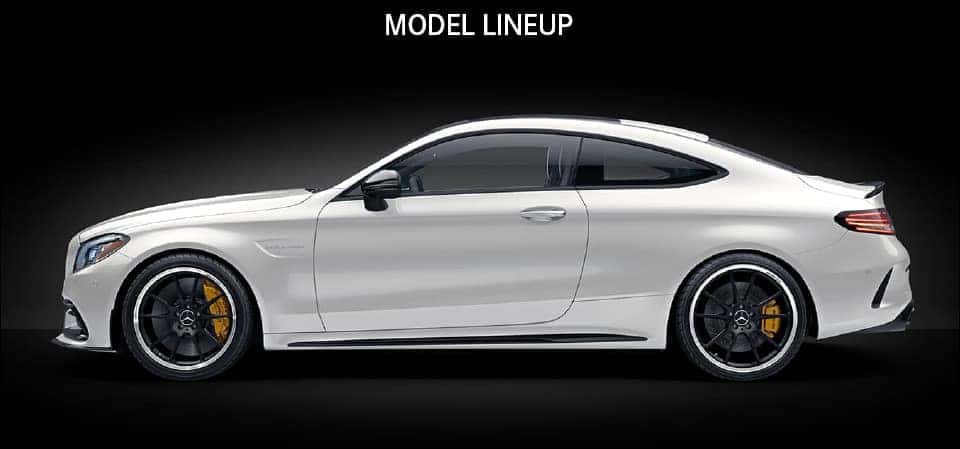 AMG® C 43 COUPE:
POWER: 385hp @ 6,100 rpm
TORQUE: 384 lb-ft torque @ 2,500 – 5,000 rpm
ACCELERATION: 4.5 sec 0-60mph‡
AMG® C 63 COUPE:
POWER: 469hp @ 5,500 – 6,250 rpm
TORQUE: 479 lb-ft torque @ 1,750 – 4,500 rpm
ACCELERATION: 3.8 sec 0-60mph‡
AMG® C 63 S COUPE:
POWER: 503hp @ 5,500 – 6,250 rpm
TORQUE: 516 lb-ft torque @ 1,750 – 4,500 rpm
ACCELERATION: 3.7 sec 0-60mph‡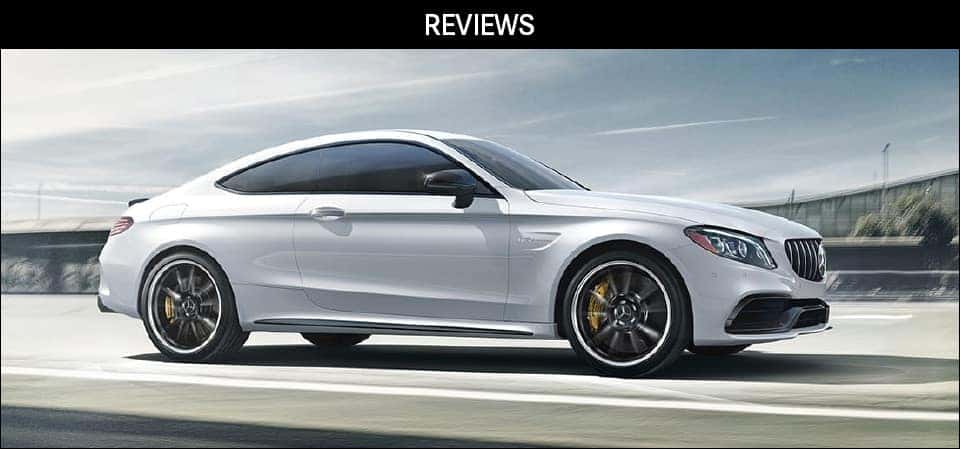 Want to learn more about the Mercedes-AMG® C-Class Sedan? Check out these independent reviews, or contact a Mercedes-Benz Manhattan Sales Representative.
Motortrend test drives the "magnificent beast" — a 2020 Mercedes-AMG® C 63 S Coupe — in Detroit.
*Lower-aspect-ratio tires and accompanying wheels provide substantially increased treadwear, increased tire noise and reduced ride comfort. Serious wheel and tire damage may occur if the vehicle is operated on rough or damaged road surfaces or upon encountering road debris or obstacles. These tires are not designed for use on snow and ice. Winter tires mounted on appropriately sized and approved wheels are recommended for driving in those conditions. Models equipped with Extended Mobility tires are not provided with a spare wheel. Vehicle is provided with TIREFIT sealant and a portable air pump in lieu of a spare wheel. ‡ Stated rates of acceleration are based upon manufacturer's track results and may vary depending on model, environmental and road surface conditions, driving style, elevation and vehicle load. ‡‡No system, regardless of how advanced, can overcome the laws of physics or correct careless driving. Please always wear your seat belt. Performance is limited by available traction, which snow, ice and other conditions can affect. Always drive carefully, consistent with conditions. Best performance in snow is obtained with winter tires. § Features are not for use on public roads or where people, animals or obstacles may be within range of the vehicle. Always obey local laws. See Operator's Manual for additional warnings and information. §§Braking effectiveness also depends on proper brake maintenance, and tire and road conditions. See Operator's Manual for additional information and warnings.
Sign up below to schedule an appointment with your Mercedes-Benz Manhattan Sales Rep. We'll also keep you up to date with our latest, exclusive benefits.
Drive In. Be Spoiled.