We hope you have an UNDENIABLY MANHATTAN experience this July 4th.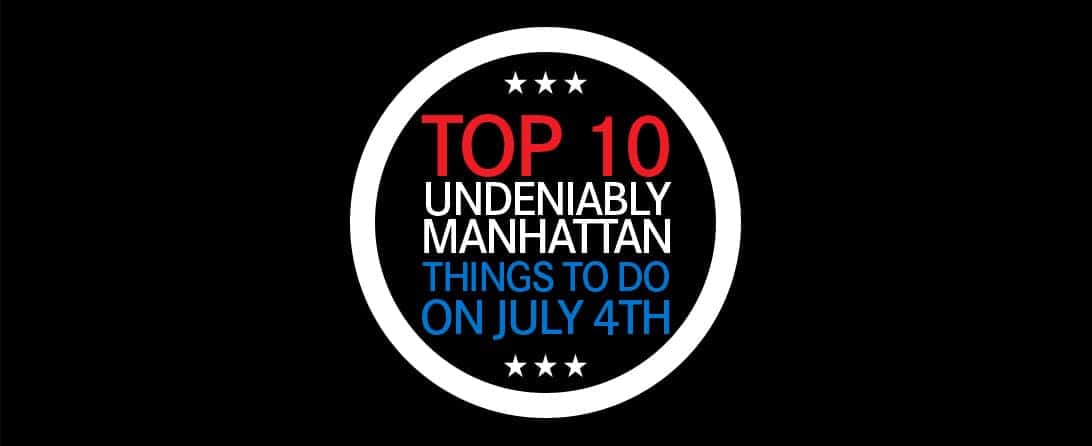 Our dealership will be closed on Wednesday, July 4th — but, there's still so much you can do to celebrate with everything that's UNDENIABLY MANHATTAN, including this Top Ten list of things to do on July 4th:
10. DANCE THE NIGHT AWAY. Join The Mambo Legends Orchestra for a night of Latin dance on Lincoln Center's gorgeous open-air dance floor as part of New York City's best dance party under the stars, Midsummer Night Swing at Damrosch Park at Lincoln Center: $17-25.
9. HAVE SOME LAUGHS. For a night of unrelenting, uproarious FREE stand-up comedy in the Lower East Side, check out Too Many Cooks at Lucky Jack's or Better Days Comedy at Better Days. Or, head uptown to the legendary Amateur Night at the Apollo, hosted by the comedian Capone: from $22.
8. TAKE IN A BROADWAY SHOW. Broadway.com has many great seats available to various hit Broadway shows from My Fair Lady to Mean Girls — there's something for everyone: prices vary.
7. ESCAPE TO THE BALLET. From the delicious imaginations of Artist in Residence Alexei Ratmansky and pop surrealist visionary Mark Ryden comes the fantastical confection, Whipped Cream performed by the American Ballet Theater. It's truly a delight for ballet fans of all ages: from $25.
6. CATCH A MOVIE. Whether you want to experience a 3-D summer blockbuster at the AMC, or independent films from around the world, Manhattan has some of the greatest theaters, like the Paris, Midtown, Metrograph, Lower East Side, or Film Society Lincoln Center.
5. GO ON A CROSSTOWN PIZZA TOUR. New York pizza has reached mythical status in a relatively short period of time. Walk the path of New York pizza history on the streets of Little Italy and Greenwich Village where it all began: $45.
4. TAKE IN SOME HISTORIC ART. When it comes to major attractions, New York museums (including MoMA: $25 (but savvy New Yorkers pay what they want), the Met: $25, the Guggenheim: $25, Museum of Natural History: $23, New York Historical Society: $21, the Whitney Museum: $25, and the Morgan Library: $20) are not only some of the best places to visit, but also some of the most iconic.
3. ENJOY A DRINK WITH A VIEW. Visit the Cantor Roof Garden Bar (at the Met 5th Ave.) for cocktails and light fare in an open-air setting with views of Central Park and the Manhattan skyline. Or, enjoy the lush gardens at Gallow Green (McKittrick Hotel). Or step into the Italian countryside at Serra by Birreria (Eataly), Flatiron. Or visit more of the beautiful rooftop bars across the Manhattan Skyline.
2. GO FOR A SWIM. Beat the heat at the top of the world at the luxurious Parker New York pool: $150/day pass. Or, check out some of the many other pools Manhattan has to offer.
1. FIREWORKS! Whether you take a scenic cruise around Manhattan with Circle Line Cruise: from $179 or Liberty Cruise: from $259, or catch Front Row Fireworks (at 34th St. Heliport): from $50, you'll have a great view of the 42nd annual Macy's Fireworks show!

Sign up below to schedule an appointment. We'll also keep you up-to-date with our latest, exclusive partner benefits. Drive In. Be Spoiled.