2021 Mercedes-Benz E-Class Sedan

Introducing the 2021 E-Class — MotorTrend's 2021 Car of the Year®. The E-Class body always reflects its soul. So its many enhancements are wrapped in a freshly refined design. A sleek new grille and LED headlamps lead the way, while a reshaped trunk and sporty taillamps leave a lasting impression.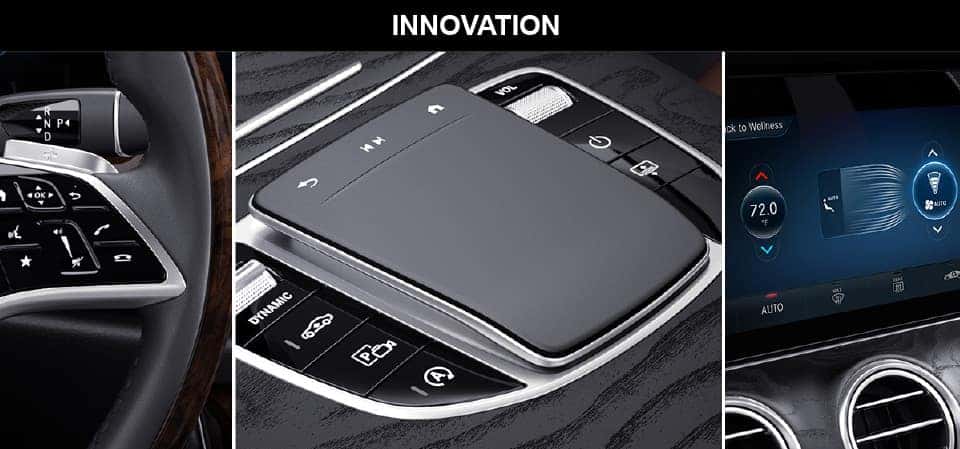 Introducing the 2021 E-Class. You can talk to it, and the E-Class responds with action. It can talk with some other cars to help you prepare for trouble. And it can team up its advances to help make every drive safer, smoother, and more satisfying than ever before.
The intuitive, touch-sensitive controls of the Mercedes-Benz User Experience (MBUX) put a world of features at your fingertips. The digital cockpit's dual 12.3-inch displays include a central touchscreen.
MBUX can listen and learn, to turn your words into action. Just say "Hey, Mercedes," then "I'm cold" or "I need a coffee," and MBUX can warm the cabin or set the standard MB Navigation. You can also quietly control features via new, more advanced steering-wheel touch controls.*
Mercedes me connect makes ownership easy. Access Remote Start or Lock/Unlock, schedule service and more, all from your phone. In-car WiFi is available for a low monthly rate. Wireless charging is available, while Apple CarPlay™ and Android Auto are standard.**
Bumped while parked? Your E-Class can't say ouch, but it can send you a message. Traffic tie-up ahead? "Car-to-X" technology links to a central resource, to send you in-car updates about driving conditions before you get to them.†
Advanced systems can help de-stress driving, from standard Blind Spot Assist to pre-crash hearing protection. Options can help you change lanes with a tap of a turn signal, or help the cruise control steer, stop-and-go in traffic, even slow for an offramp.††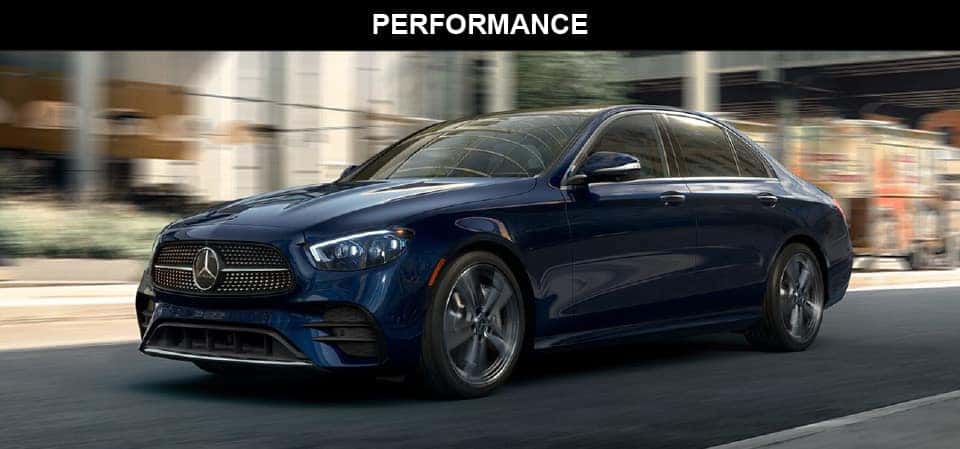 The measure of an E-Class is still how it moves, and the way it moves you. Agile and athletic, it's engineered and tuned to evoke your confidence and inspire your joy on city streets, open highways, and the road to the future.
Standard on the E 450 and an E 350 option, 4MATIC® all-wheel drive adds confidence in challenging conditions. Selective damping or available AIR BODY CONTROL® each respond to sharpen handling and smooth the ride.
The 255-hp turbo E 350 squeezes more power from less fuel, self-tuning every few milliseconds. The E 450's 362-hp turbo inline-6 is electrified with EQ Boost technology, for added gas-free response and responsibility.
DYNAMIC SELECT dials in performance with the tap of a console button. The 9-speed transmission, throttle and more sharpen in Sport mode, ease up in ECO. There's even a mode you can set up as you like.
E 350 SEDAN:
ENGINE: 2.0L inline-4 turbo
POWER: 255hp @ 5,800 – 6,100rpm
TORQUE: 273 lb-ft torque @ 1,800 – 4,000 rpm
ACCELERATION: 6.1 sec 0-60mph‡
E 350 4MATIC®® SEDAN:
ENGINE: 2.0L inline-4 turbo
POWER: 255hp @ 5,800 – 6,100
TORQUE: 273 lb-ft torque @ 1,800 – 4,000 rpm
ACCELERATION: 6.0 sec 0-60mph‡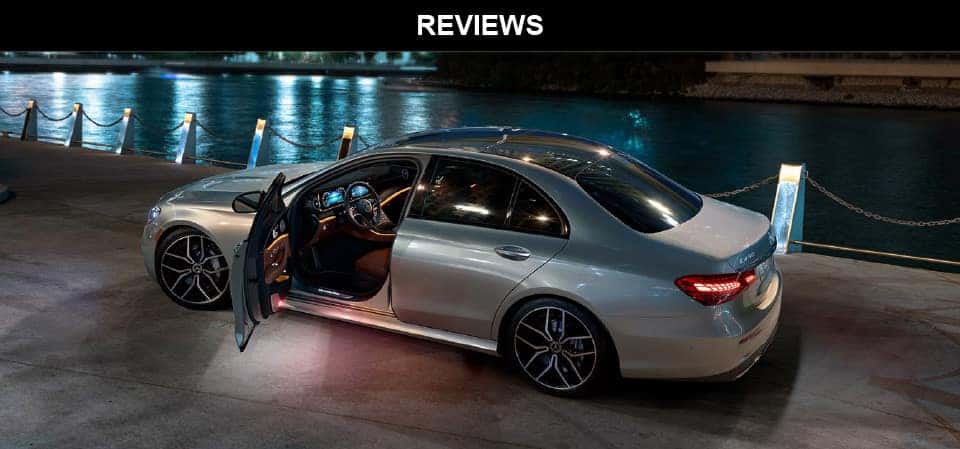 Want to learn more about the 2021 E-Class? Check out these independent reviews, or contact a Mercedes- Benz Manhattan Sales Representative.
Autogefühl offers a comprehensive review of the new E-Class.
Car and Driver says "Brimming with high-tech features, tranquil interior environment, smooth and strong powertrains." 
MotorTrend says "the E-Class update for 2021 properly modernizes Benz's midsize luxury icon. We can't wait to get one in the office." 
*While the navigation system provides directional assistance, the driver must remain focused on safe driving behavior, including paying attention to traffic and street signs. The driver should utilize the system's audio cues while driving and should only consult the map or visual displays once the vehicle has been stopped in a safe place. Maps do not cover all areas or all routes within an area, may require periodic updating, and may not reflect recent or temporary changes to roadways. **All Mercedes me services operate only where cellular and GPS signals are available, which are provided by third parties and not within the control of Mercedes-Benz USA, LLC. Mercedes me connect Assist Services, and 3 years of Mercedes me connect services are Included at no additional charge with new-vehicle sales and leases at an authorized Mercedes-Benz dealer. Models with COMAND® navigation or MB Navigation also include 3 years of map updates (up to twice per year), and a 1-month trial (up to 1GB) of in-vehicle WiFi and streaming audio. Subscriber Agreement is required for service to be active. Some services are only available on select vehicles. Your PIN is required to use certain services. Connection may be limited by cellular signal and other factors. Features may be introduced and updated at varying dates, and may also require a vehicle software update. Some services may be limited or restricted in some areas. Driver is responsible for complying with traffic and other laws. See your dealer or MBUSA.com/mercedesme for details. Wireless charging and NFC pairing available only for devices with compatible technology and size. See Operator's Manual for more information. Devices sold separately. Apple CarPlay™ is a product of Apple Inc. Android Auto is a product of Google Inc. Device and app providers' terms and privacy statements apply. Requires connected compatible device and data plan. Apps, content and features are selected solely by their providers. Connection to apps and streaming services may be limited by the device's network connection. Data usage is routed through device and subject to fees, charges and restrictions in user's wireless plan. Vehicle's factory audio/information interface, including COMAND® navigation, may not be used simultaneously with Apple CarPlay or Android Auto. When Apple CarPlay or Android Auto is in use, the steering-wheel voice control button accesses Siri® or Google voice recognition software for voice commands. ‡Stated rates of acceleration are based upon manufacturer's track results and may vary depending on model, environmental and road surface conditions, driving style, elevation and vehicle load.
Sign up below to schedule an appointment with your Mercedes-Benz Manhattan Sales Rep. We'll also keep you up to date with our latest, exclusive partner benefits.
Drive In. Be Spoiled.