C-Class Coupe

Its wind-slicing shape is sharpened. Its athletic stance, assertive. Its brilliant details, polished. The sporty C-Class Coupe displays its state-of-the-art innovations and turbocharged power in a muscular frame with the power to seduce.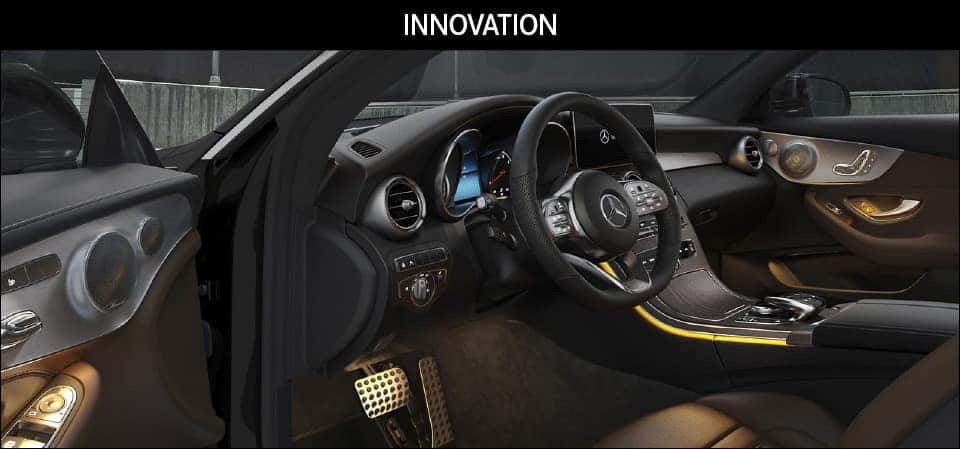 For every sense, the C-Class Coupe has a sensation. Advanced driving assists, next-generation safety systems, and 64 colors of ambient lighting enhance your feeling of well-being, and being well ahead of the crowd. Standard Blind Spot Assist helps make driving or even exiting the car safer. Available assists let you change lanes with a tap of your finger, and can slow your cruising speed for an offramp. A network of sensors can help look out for danger ahead, even if it's coming from behind.*
A standard 10.25″ central screen vividly presents audio, vehicle settings and more. Along with standard Apple CarPlay™ and Android Auto, navigation options include COMAND® with voice control of many cabin features, or a full-featured system on a tiny SD card.**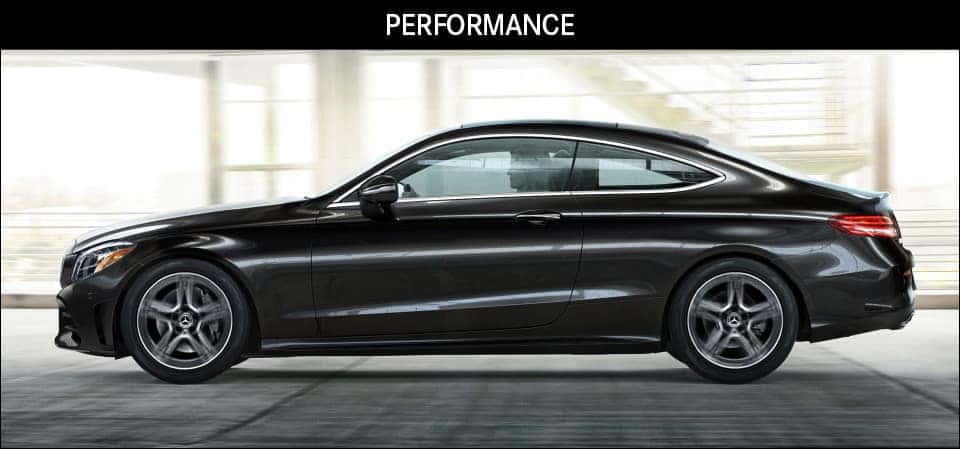 Solid muscle that's taut in the curves, the C-Class Coupe body is the precise rendition of how it feels from behind the wheel. More turbo power and a paddle-shifted 9-speed fuel your spirit, without using much fuel. A twin-scroll turbo, Direct Injection and CAMTRONIC valve adjustment team up for 255 hp and 273 lb-ft of torque in the C 300 engine. And even though it's powerful, it's also quite efficient, with up to 31 highway mpg. The 4-wheel multilink suspension is sport-tuned for agility and precise response. Selective damping instantly firms up in corners, yet stays refined on rough roads. Subtle lowering feels good on the move, and looks great standing still. DYNAMIC SELECT dials in the car's performance character with the tap of a console button. Four preset modes vary shift points, throttle response, steering feel and more, from easygoing ECO to sharp Sport+. Or create your own Individual mode.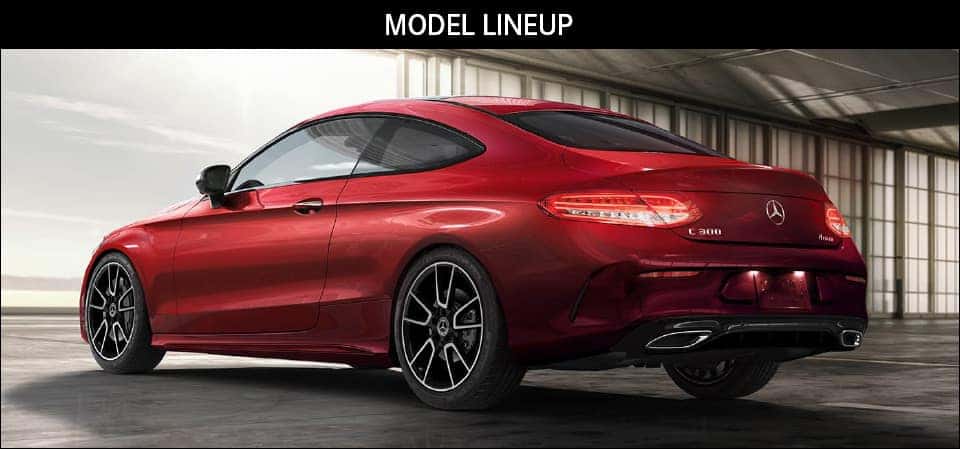 C 300 COUPE:
POWER: 255hp @ 5,800-6,100 rpm
TORQUE: 273 lb-ft torque @ 1,800 – 4,000 rpm
ACCELERATION: 5.9 sec 0-60mph‡
C 300 4MATIC®® COUPE:
POWER: 255hp @ 5,800-6,100 rpm
TORQUE: 273 lb-ft torque @ 1,800 – 4,000 rpm
ACCELERATION: 5.9 sec 0-60mph‡

Want to learn more about the C 300 Coupe? Check out these independent reviews, or contact a Mercedes- Benz Manhattan Sales Representative. Download brochure here.
Autogefühl compares the E-Class and the C-Class Coupe.
Car and Driver says "The 2019 Mercedes-Benz C 300 Coupe Is Quicker, Still Looks Great"
Check out this comprehensive review over at Motortrend

*Some systems are optional. Even the most advanced safety systems may not be sufficient to avoid an accident. It is the driver's responsibility at all times to be attentive to traffic and road conditions, and to provide the steering, braking and other driving inputs necessary to retain control of the vehicle. Drivers are cautioned not to wait for system alerts before braking or taking evasive action, as that may not afford sufficient time and distance. See Operator's Manual for system operating speeds and additional information and warnings. **Apple CarPlay™ is a product of Apple Inc. Android Auto is a product of Google Inc. Device and app providers' terms and privacy statements apply. Requires connected compatible device and data plan. Apps, content and features are selected solely by their providers. Connection to apps and streaming services may be limited by the device's network connection. Data usage is routed through device and subject to fees, charges and restrictions in user's wireless plan. Vehicle's factory audio/information interface, including COMAND® navigation, may not be used simultaneously with Apple CarPlay or Android Auto. When Apple CarPlay or Android Auto is in use, the steering-wheel voice control button accesses Siri® or Google voice recognition software for voice commands. While the navigation system provides directional assistance, the driver must remain focused on safe driving behavior, including paying attention to traffic and street signs. The driver should utilize the system's audio cues while driving and should only consult the map or visual displays once the vehicle has been stopped in a safe place. Maps do not cover all areas or all routes within an area, may require periodic updating, and may not reflect recent or temporary changes to roadways. ‡Stated rates of acceleration are based upon manufacturer's track results and may vary depending on model, environmental and road surface conditions, driving style, elevation and vehicle load.

Sign up below to schedule an appointment with your Mercedes-Benz Manhattan Sales Rep.
We'll also keep you up to date with our latest, exclusive partner benefits. Drive In. Be Spoiled.