GLB SUV

Has any SUV ever fit so much into such a compact package? Accommodating, with seating for up to seven. Rugged in all the right places, with looks to match. So intelligent it can carry on a conversation, and carry out your wishes. And all priced to please. Crisp, upright lines maximize cabin space and minimize overhangs, for attitude at any latitude. Standard, even sportier AMG® Line, and black-accented Night Package styling options each offer a pair of wheel designs, for a total of six choices from 18 to 20 inches.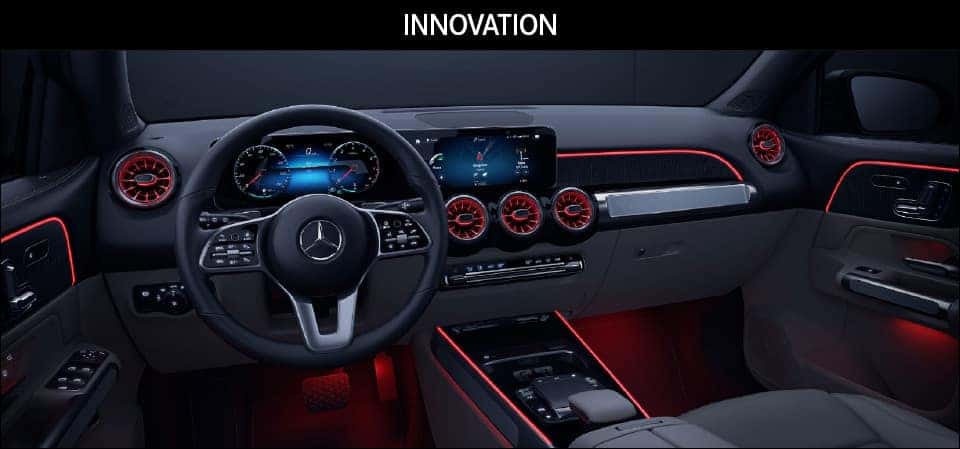 If you like how the GLB looks, you'll love how it listens. The Mercedes-Benz User Experience is your own in-car personal assistant. Just say what you want, and your wish is literally your GLB's command. MBUX can quietly respond to your touch, too. Tell it, touch it, point to it: Your GLB can hear you, and show you the way. Say "Hey, Mercedes, I'm chilly" or "I need a coffee," and MBUX listens.* You can adjust many cabin features or the available MB Navigation, by speaking naturally. Options include live video with graphic overlays of your next turn, and in cabin gesture controls. Touchpads on the steering wheel and console let you access the in-dash screens. Next generation options help smooth any journey: Change lanes with a tap of a turn signal. Park hands-free. Adaptive cruise can help steer, stop-and-go in traffic, even slow for an offramp. Advanced tech can even help "cover your ears" before a crash.**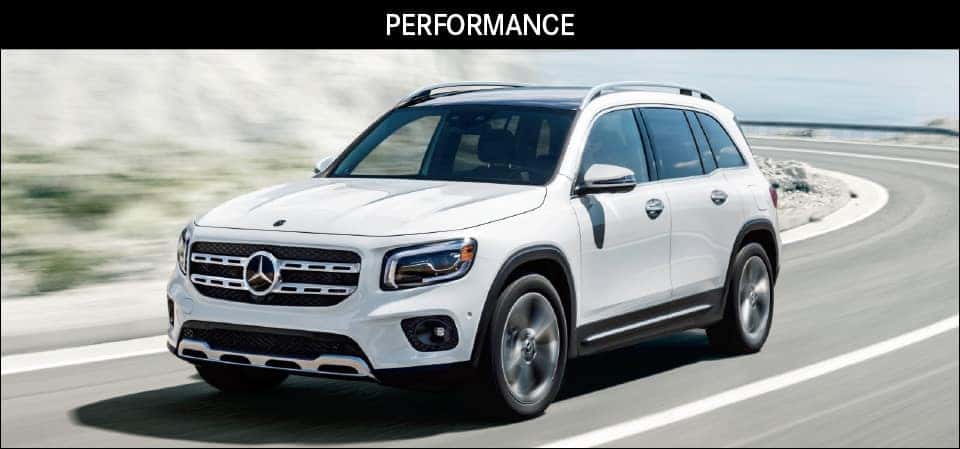 The advanced, efficient 2.0L inline-4 engine's twin-scroll turbo pumps up power to 221hp. With all 258 lb-ft of torque on tap from just 1,800 rpm, you get quick response off the line, and for passing, merging and climbing. The clever dual-clutch 8-speed can be an easygoing automatic or a paddle-shifted partner in fun as you wish. With no fewer than four drive modes, DYNAMIC SELECT lets you tune the drivetrain, steering feel, and available adaptive suspension to suit, too. Available 4MATIC® all-wheel drive can vary the front/rear torque split to optimize stability, handling and efficiency based on available grip at each wheel. The GLB 250 4MATIC®'s rugged engineering includes a loose-surface drive mode, Downhill Speed Regulation, an off-road graphic display, and more.†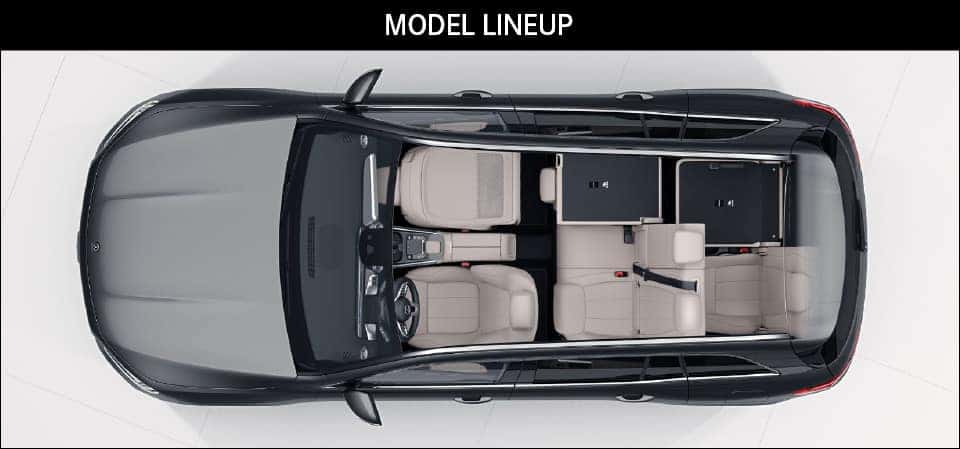 GLB 250 SUV:
POWER: 221hp @ 5,500
TORQUE: 258 lb-ft torque @ 1,800 – 4,000 rpm
GLB 250 4MATIC® SUV:
POWER: 221hp @ 5,500
TORQUE: 258 lb-ft torque @ 1,800 – 4,000 rpm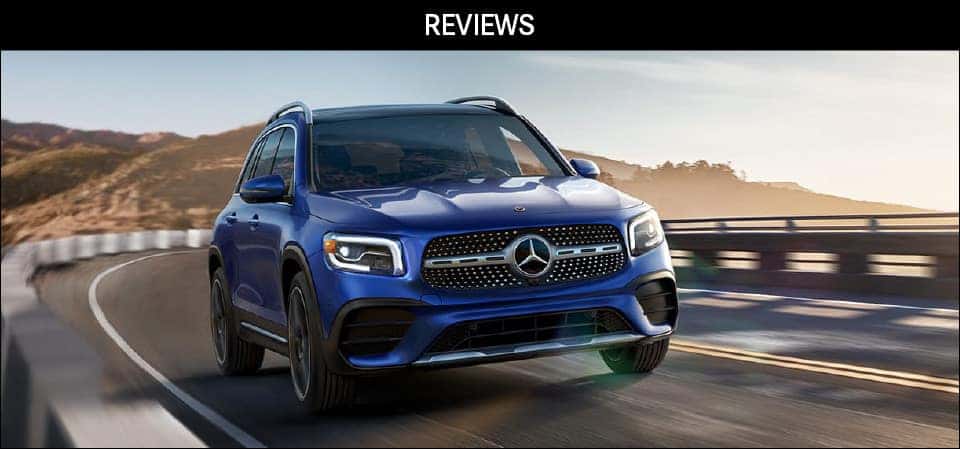 Want to learn more about the GLB SUV? Check out these independent reviews, or contact a Mercedes-Benz Manhattan Sales Representative.
See Autogefühl's comprehensive review of the GLB.
TFL offers a full video review here.
MotorWeek says "Just the right size for growing families, and just the right mix of old-school utility and up-to-the-minute engineering."

*While the navigation system provides directional assistance, the driver must remain focused on safe driving behavior, including paying attention to traffic and street signs. The driver should utilize the system's audio cues while driving and should only consult the map or visual displays once the vehicle has been stopped in a safe place. Maps do not cover all areas or all routes within an area, may require periodic updating, and may not reflect recent or temporary changes to roadways. **Some systems are optional. Even the most advanced safety systems may not be sufficient to avoid an accident. It is the driver's responsibility at all times to be attentive to traffic and road conditions, and to provide the steering, braking and other driving inputs necessary to retain control of the vehicle. Drivers are cautioned not to wait for system alerts before braking or taking evasive action, as that may not afford sufficient time and distance. See Operator's Manual for system operating speeds and additional information and warnings. †Off-road driving should only be attempted by drivers with the necessary skill, experience and understanding of the vehicle's limits. Read Operator's Manual before driving off-road.
Sign up below to schedule an appointment with your Mercedes-Benz Manhattan Sales Rep.
We'll also keep you up to date with our latest, exclusive partner benefits. Drive In. Be Spoiled.