GLA SUV

With the character of a Mercedes-Benz SUV, a sporting soul and a compact footprint, the turbocharged GLA is agile, adventurous and adaptable. It's at home in the city, eager when you're far from home, and a perfect fit for today, and tomorrow. Taut, trim and muscular, the GLA is big on style from its iconic grille to its LED taillamps. Big 18-inch or 19-inch wheels and black fender flares lend a confident stance. Chrome and aluminum add elegant accents from bumpers to roof.
Whether you need to be connected or want to feel protected, the GLA surrounds with advanced technology that's designed to enhance your life on the go, even when you're away from your Mercedes-Benz. DYNAMIC SELECT dials in the GLA's performance character with the tap of a console button. Throttle, shifting and more sharpen in Sport mode, ease up in ECO, keep calm in Comfort. There's even a mode you can set up yourself. Every GLA uses radar to help spot hazards in your path, alert you, and even start braking to help reduce collisions. It can alert you if you seem to be getting drowsy behind the wheel. And a rearview camera is standard, too.*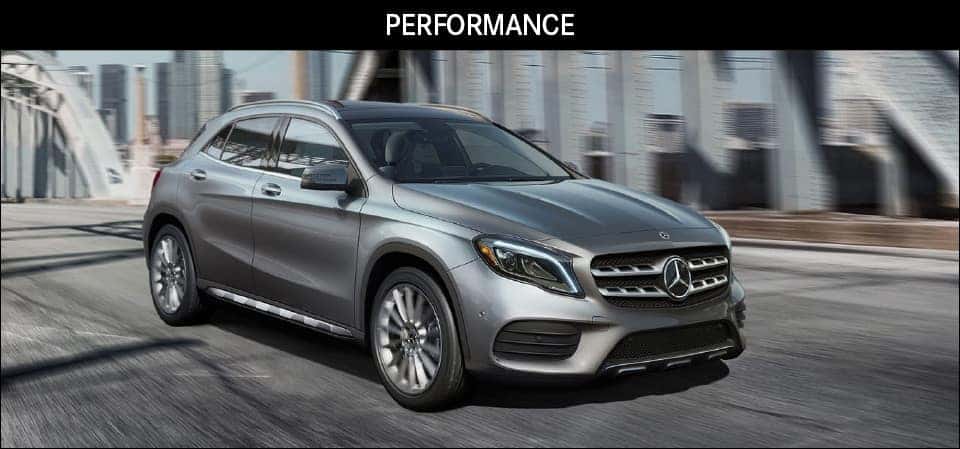 Confidence comes from many factors, but it comes alive in the GLA: From its turbo to its tight turning circle, it's a quick-witted, surefooted, fun-loving SUV that's propelled by a legacy of motorsports victory and performance innovation. With 208 turbocharged horsepower, the GLA 250 quenches your thirst for performance with a minimal appetite for fuel. Advanced Direct Injection and multi-spark ignition self-tune on the fly, to keep your enthusiasm at full boost. The 7G-DCT transmission's offers the smooth refinement of an automatic with sporty reflexes. Its dual-clutch design shifts faster than a human can. While its shift paddles let you take charge of its seven speeds anytime.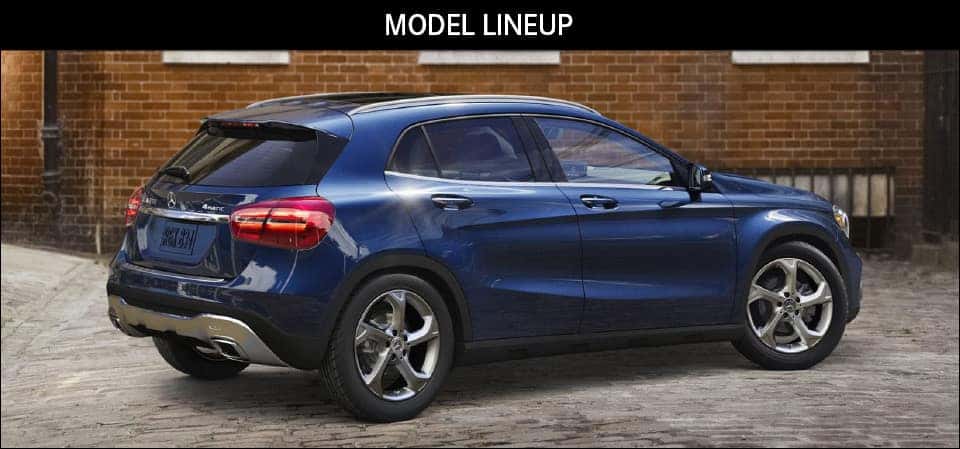 GLA 250 SUV:
POWER: 208hp @ 5,500
TORQUE: 258 lb-ft torque @ 1,200 – 4,000 rpm
ACCELERATION: 7.2 sec 0-60mph‡
GLA 250 4MATIC® SUV:
POWER: 208hp @ 5,500
TORQUE: 258 lb-ft torque @ 1,200 – 4,000 rpm
ACCELERATION: 7.1 sec 0-60mph‡

*Active Brake Assist may not be sufficient to avoid an accident. It does not react to certain stationary or suddenly moving objects or pedestrians, may not react in certain situations where objects cannot be clearly identified, nor does it recognize or predict the curvature and/or lane layout of the road or every movement of vehicles and pedestrians ahead. It is the driver's responsibility at all times to be attentive to traffic and road conditions, and to provide the steering, braking and other driving inputs necessary to retain control of the vehicle. Drivers are cautioned not to wait for the system's alerts before braking, as that may not afford sufficient time and distance to brake safely. See Operator's Manual for system operating speeds and additional information and warnings. Driving while drowsy or distracted is dangerous and must be avoided. ATTENTION ASSIST® may be insufficient to alert a fatigued or distracted driver of lane drift and cannot be relied on to avoid an accident or serious injury. Rearview camera does not audibly notify driver of nearby objects and is not a substitute for actively checking around the vehicle for any obstacles or people. Images displayed may be limited by camera field of view, weather, lighting conditions and the presence of dirt, ice or snow on the camera. ‡Stated rates of acceleration are based upon manufacturer's track results and may vary depending on model, environmental and road surface conditions, driving style, elevation and vehicle load.
Sign up below to schedule an appointment with your Mercedes-Benz Manhattan Sales Rep.
We'll also keep you up to date with our latest, exclusive partner benefits. Drive In. Be Spoiled.